Face 2 Face Workshops
Lisa Klakulak focuses her instruction on understanding the material and process in order to apply good technique to create material integrity. STRONGFELT courses are not kit or generally project oriented, rather, participants work through technical studies to discover structural and aesthetic possibilities leading to ideation for future work. This empowering approach provides a knowledge base to navigate results and to achieve personalized visions and aesthetics in the felt medium.
Workshops descriptions listed below are examples of recent teaching and topics covered under a course title may vary depending on the length of course offered. Participants are requested to bring specific supplies in addition to the materials provided with the materials fee for each course and these lists/fees are made available by the hosting venue. Additionally, Klakulak offers special studio tools and a collection of her work for sale to participants.
Hosting venues can contact Lisa Klakulak through the CONTACT link to discuss the possibilities of hosting a workshop and/or lecture for your institution and its patrons.  Slide lectures are available for an additional fee and through excellent visuals and dynamic delivery, address the unique qualities of wool and the wet felting process, Klakulak's residency experiences, development of product, concepts and teaching approaches as well as the influences of her broad travels on her work and approach to life.
Visit the WORKSHOP SCHEDULE link for a current list of workshops scheduled.
Contact the hosting venue listed and linked there for pricing, enrollment and further questions.
Patterning Felt
Felt Fusion Through Substrates
Fabric Fusion & Object Inclusion
Felted Imagery
Solid Form Felting Techniques
Sculpting Three-Dimensional Felt Surfaces
Resist-Based Pendants
Sculpting Hollow Form
Course Descriptions:
TWO-DIMENSIONAL FELTING TECHNIQUES
Click titles below for the course descriptions
*All levels | suggested time: 3-4 day course
This class focuses on a skill set for articulating shapes and creating repeating patterns on felted surfaces. Partial-felts (also known as pre-felts, but different than a needle felted batt) is the term Klakulak uses for wet felting fibers into a 2-D sheet for the purpose of cutting shapes to be felted to a background of loose fiber. Depending on the initial thickness of the sheet layout, the amount of felting/fulling that occurs before the shape application and the thickness of the fleece background an unimaginable range of effects can be achieved. Learn to control shape edge quality, background color "bleed, surface dimension and edge shaping while experimenting with color gradations, shape spacing and movement through shape design and rotation. The 4-day course includes free-motion machine embroidery, which can be applied to the felt to further define shapes, gather thin felt to accent dimension and crater thick felt to create an embossed effect.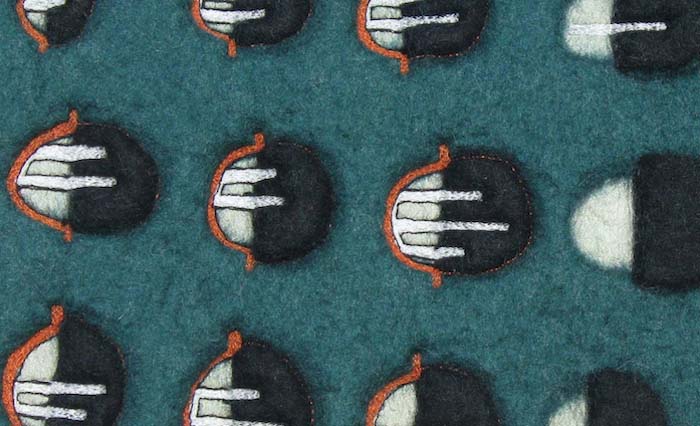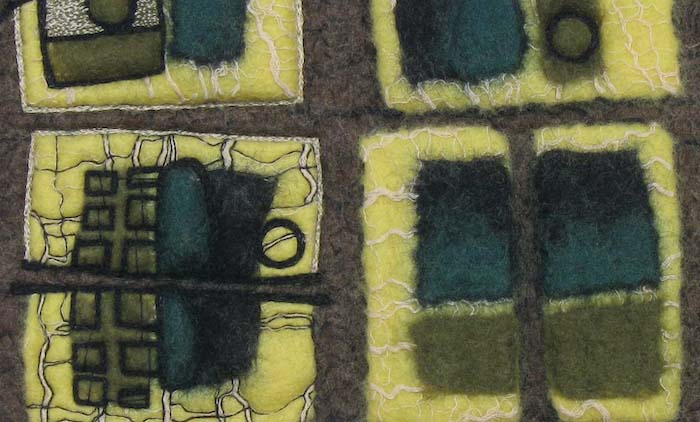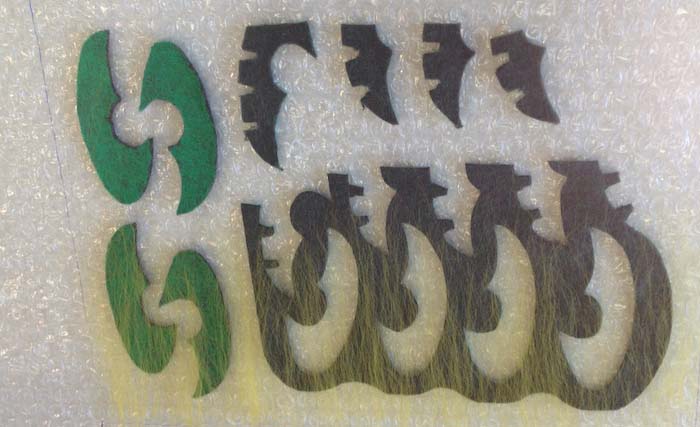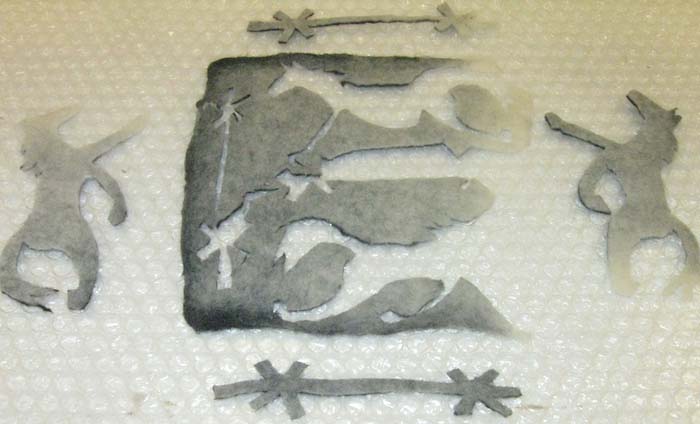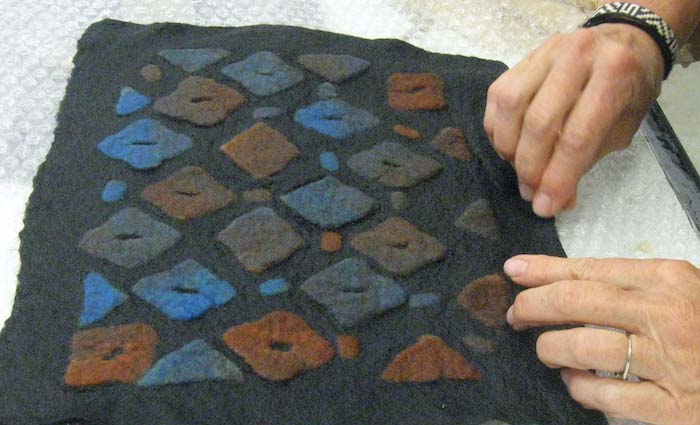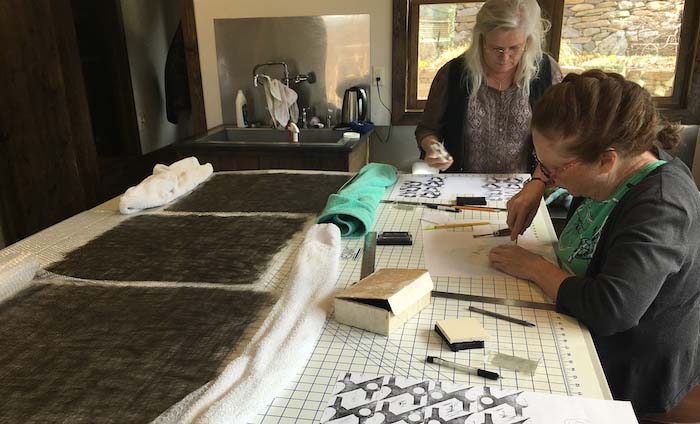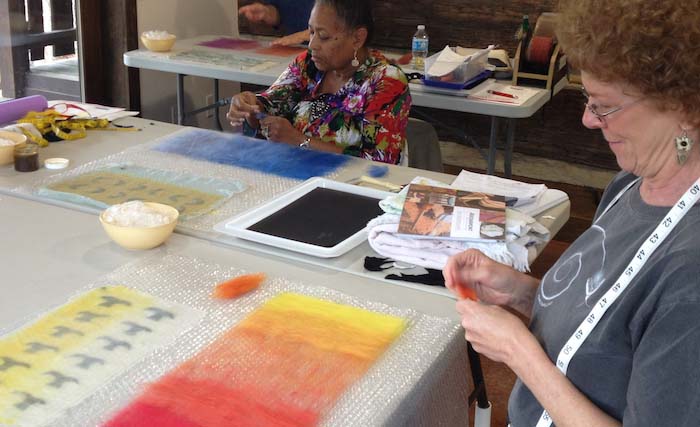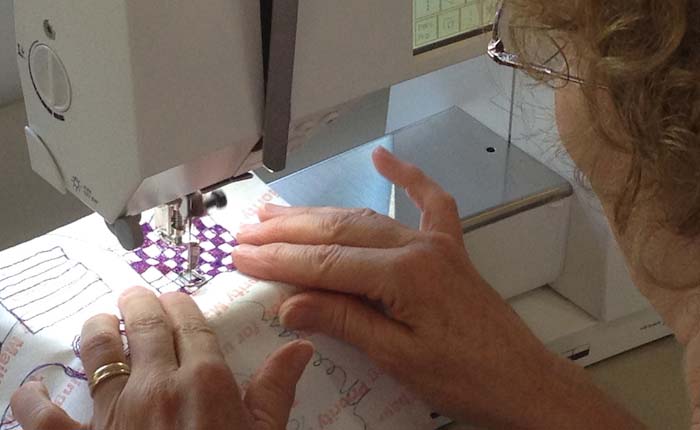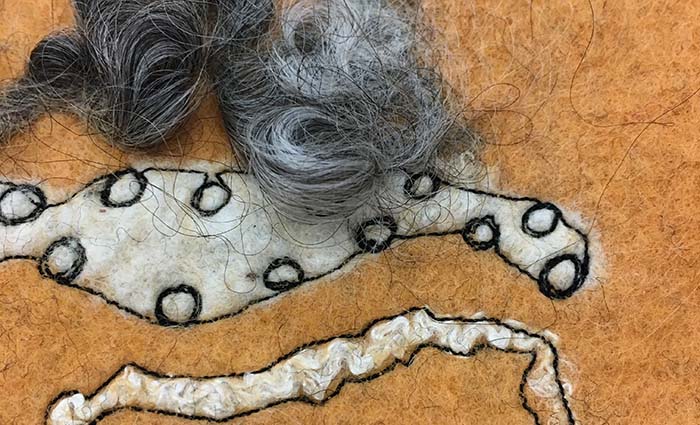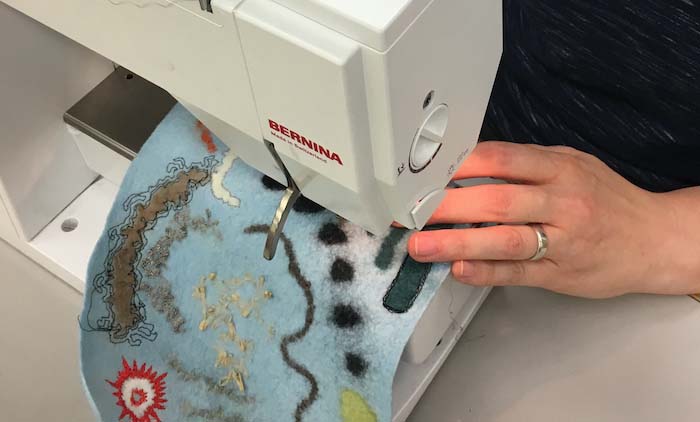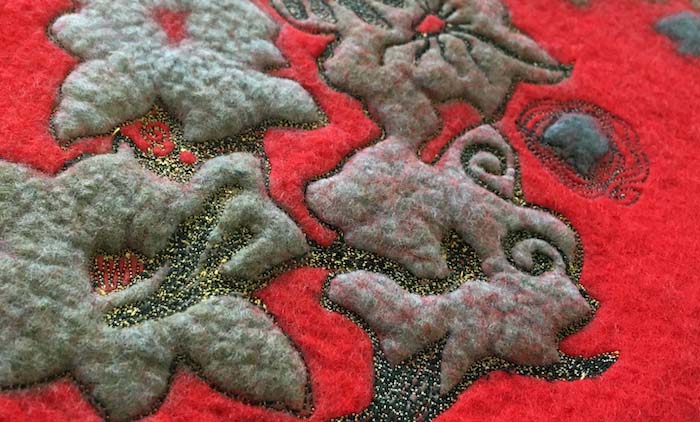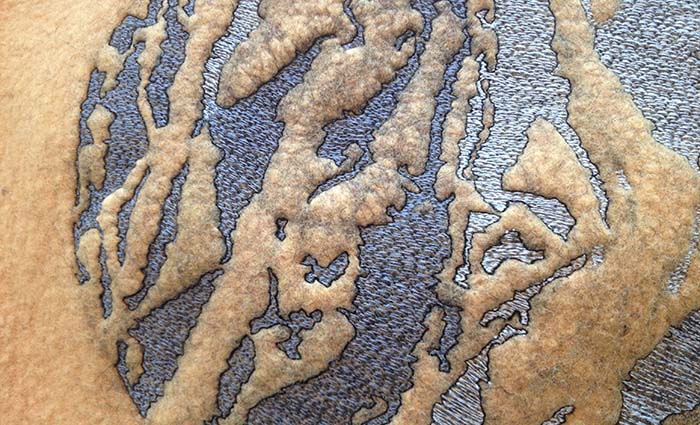 Felt Fusion Through Substrates: Texturing, Edging and Free-motion Embroidery
*All levels | suggested time: 3-5 day course
Fusion (also known as nuno, laminate and hybrid) is the term Klakulak uses to refer to the coercing of wool fibers through other pre-structured fabrics. Participants will understand the variables in this process in order to gain control and desired results. The workshop focuses on experimenting with various substrate materials and structures (not only silks!), controlling the type of fabric texture achieved including the use of partial felts as a texture resist and sampling a variety of ways to finish the edges of the fabric inclusion (tacked edge, partial felt edge and partial felt patterned edge). A 4-day course includes free-motion machine embroidery, which can be applied to the felt to further define shape edges, accent texture fields and crater thick felt to create an embossed effect. A 5-day course has been offered under the title of Depth of Surface, Depth of Field which incorporates additional studies from Fabric Fusion & Object Inclusion as well as project envisioning/calculating from chosen effects from class studies.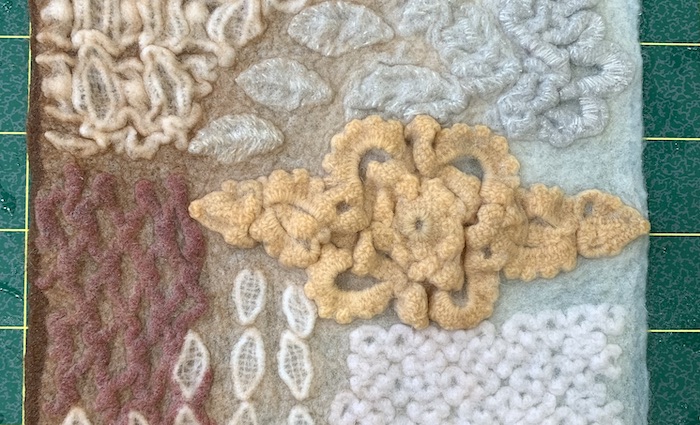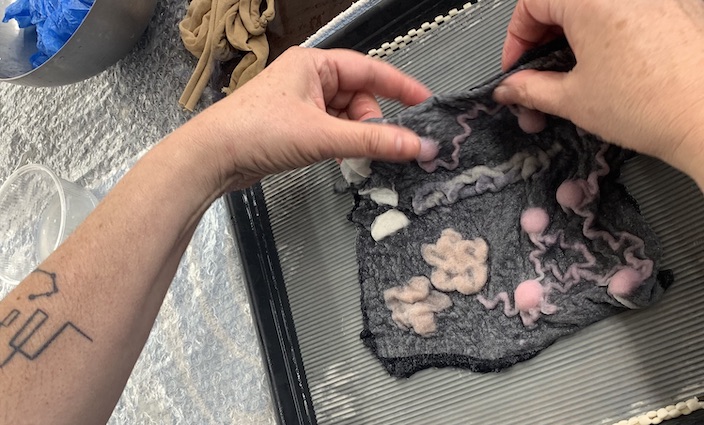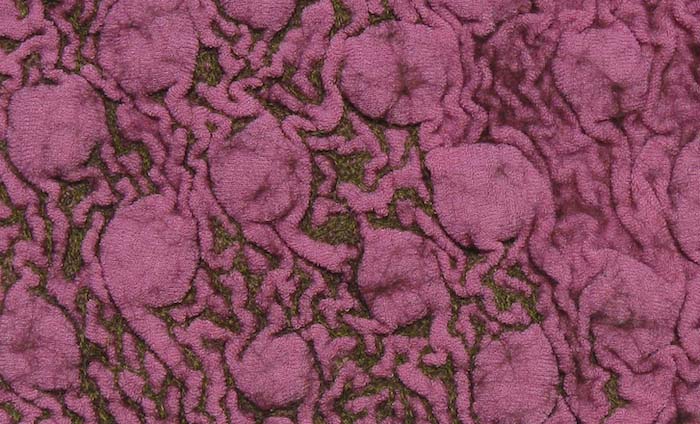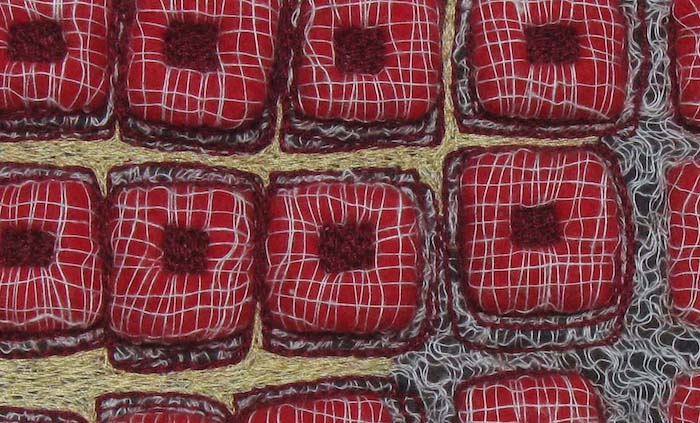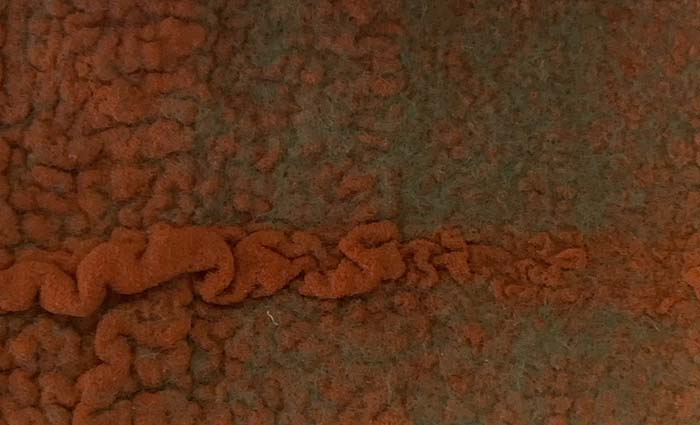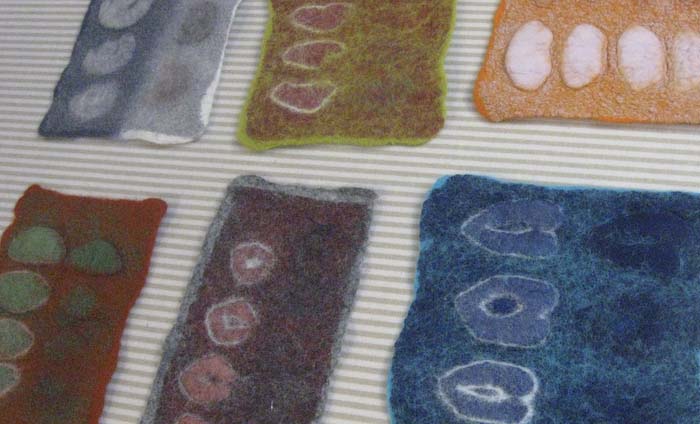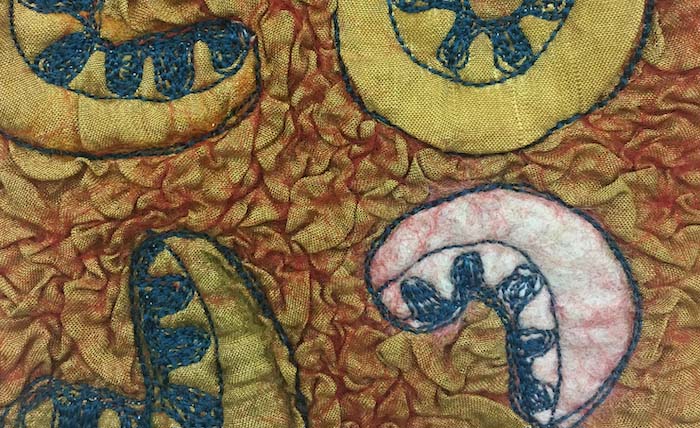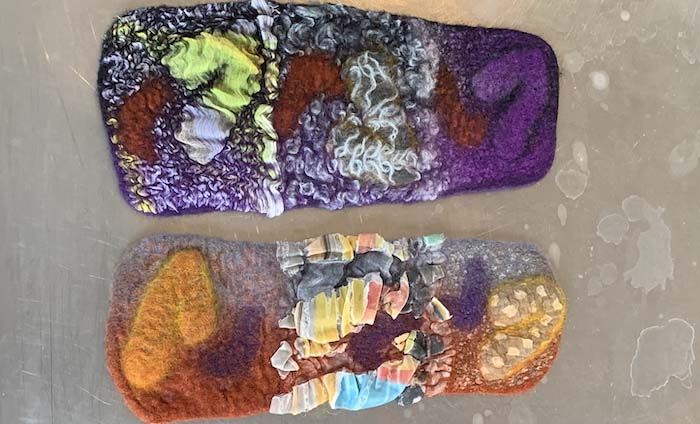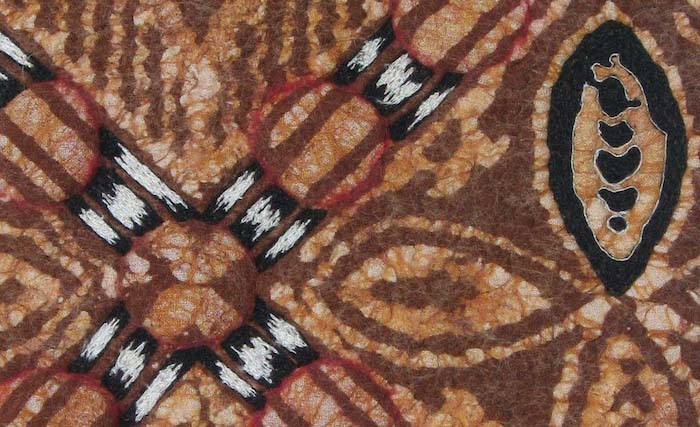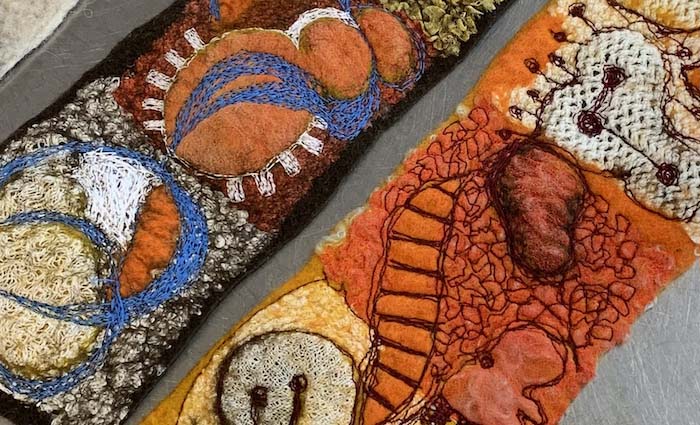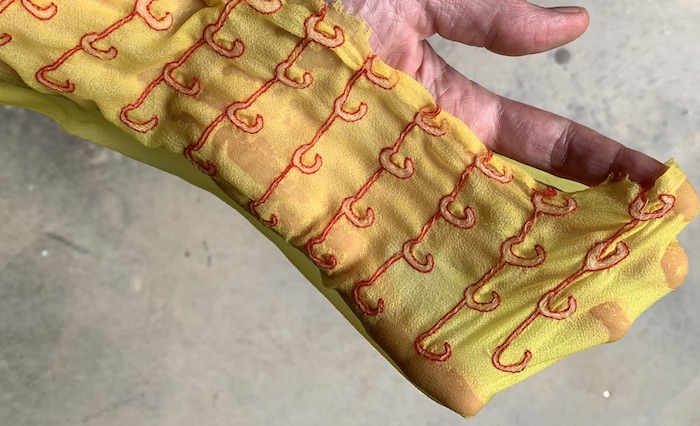 *Intermediate & Advanced| suggested time: 3-5 day course
Introducing alternative materials and objects in your felt work has the potential to add color, texture diversity, associations based on memory and experience as well as weight and movement to your work.  Participants are asked to bring a range of objects to incorporate as well as suggested types of fabric. A variety of choice fabrics are also provided based on their translucent and stretch allowing for modified viewing of the objects that will be entrapped under and between fabrics. Objects placed under fabric act as both a color and texture resist by blocking wool fiber from penetrating the fabric creating a rich contrast with the surrounding fabric fusion. Methods for structuring double sided fabric windows within a layout will also be explored: cut from a field of partial felt, using strips of partial felt to seal fabric pockets and partial felt sandwiched between fabrics. A 4-day course includes free-motion embroidery. A 5-day course has been offered under the title of Depth of Surface, Depth of Field which incorporates additional studies from Felt Fusion Through Substrates as well as project envisioning/calculating from chosen effects from class studies.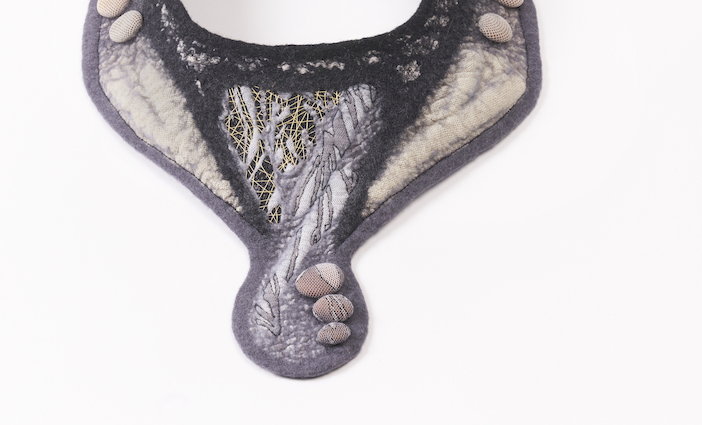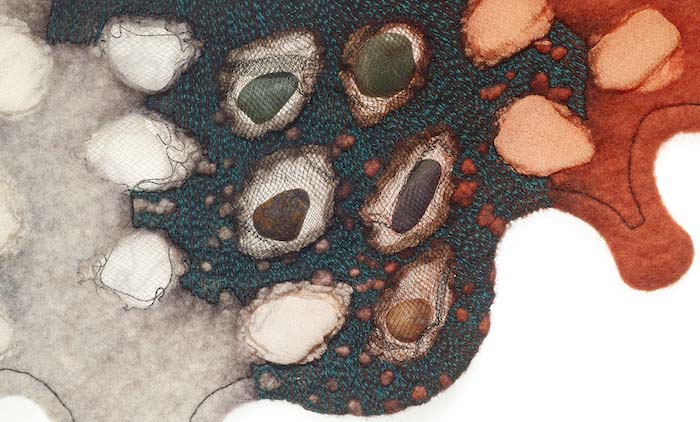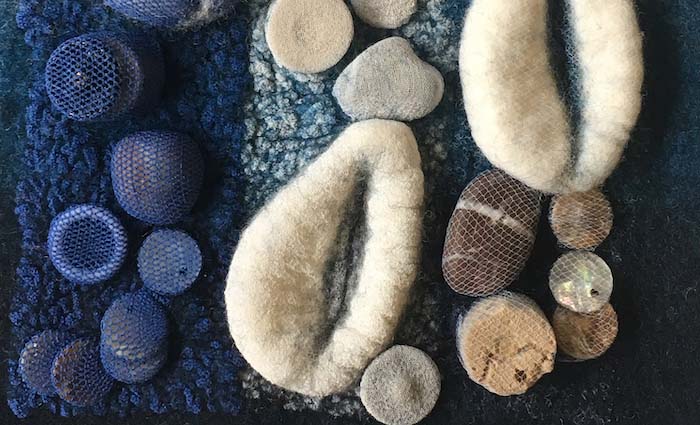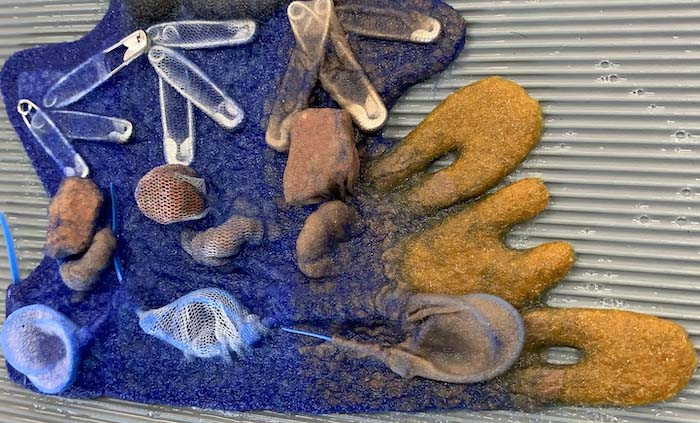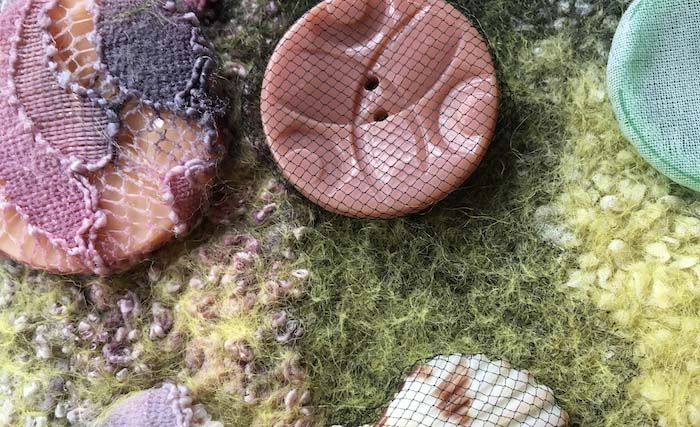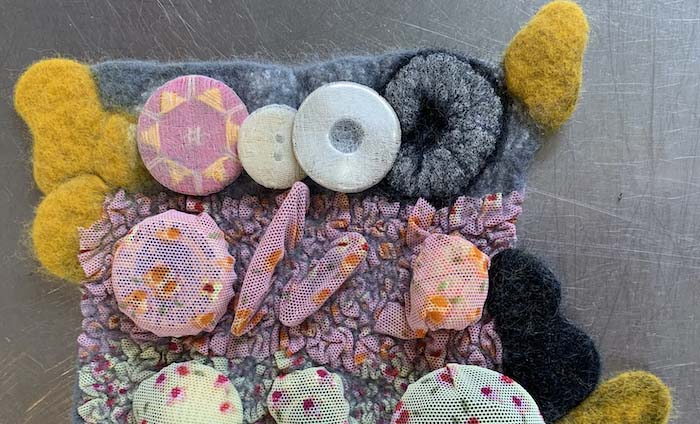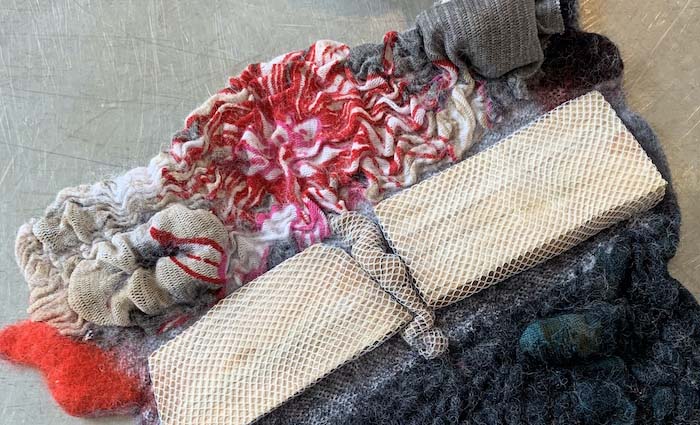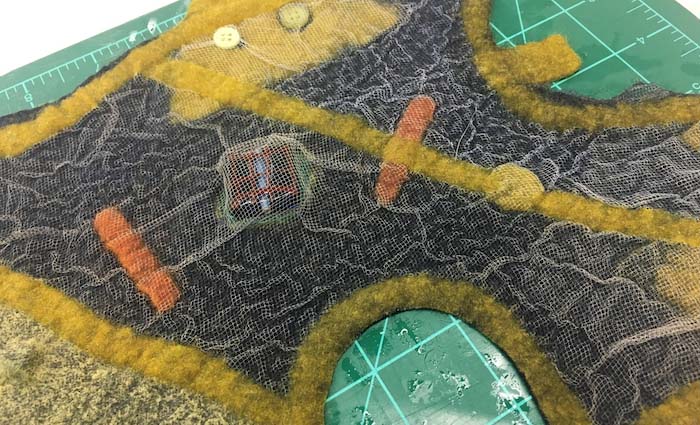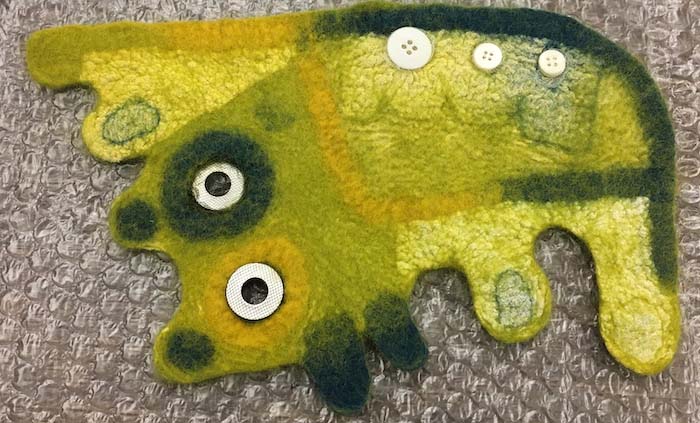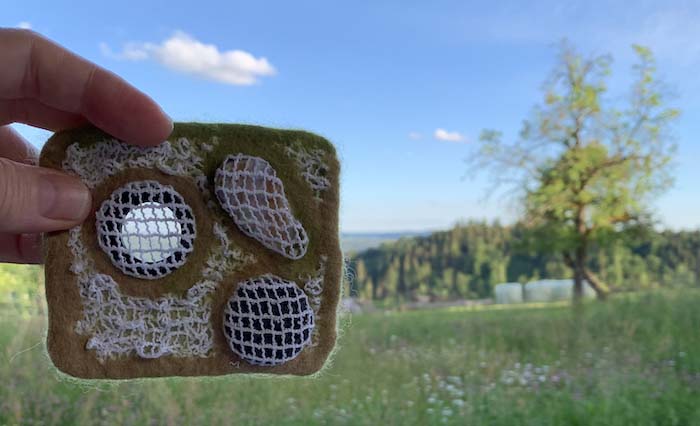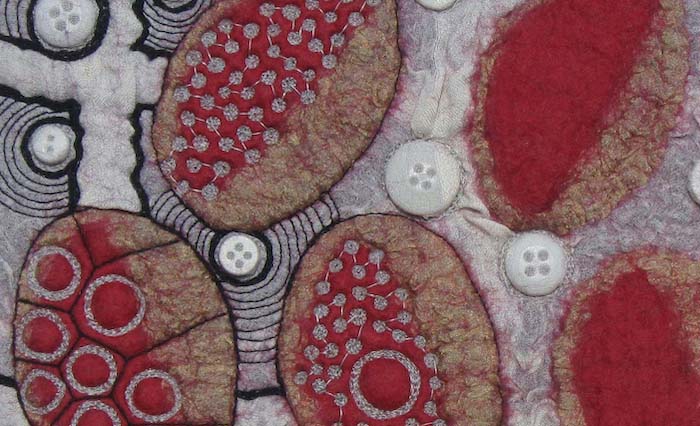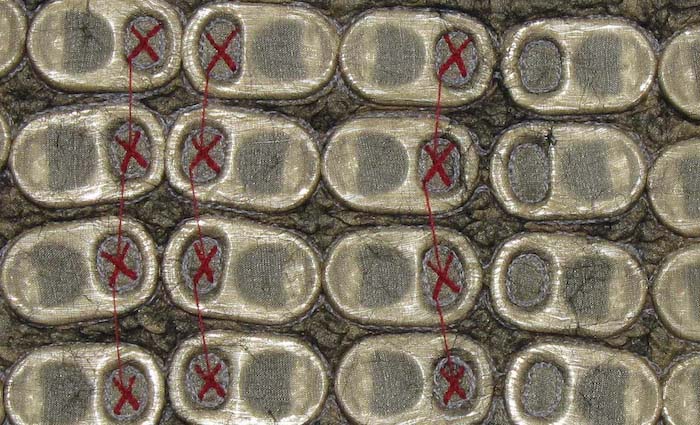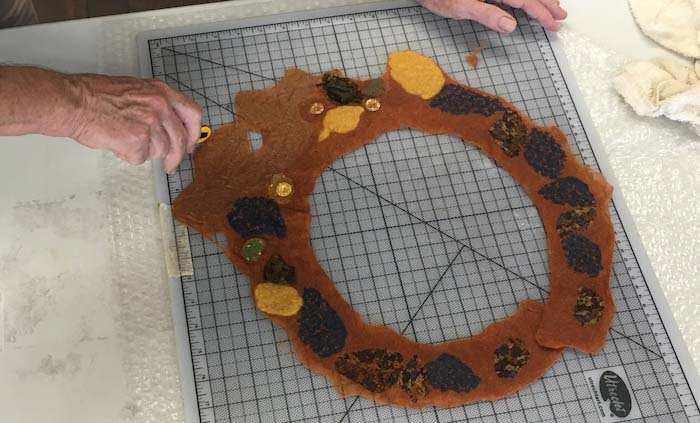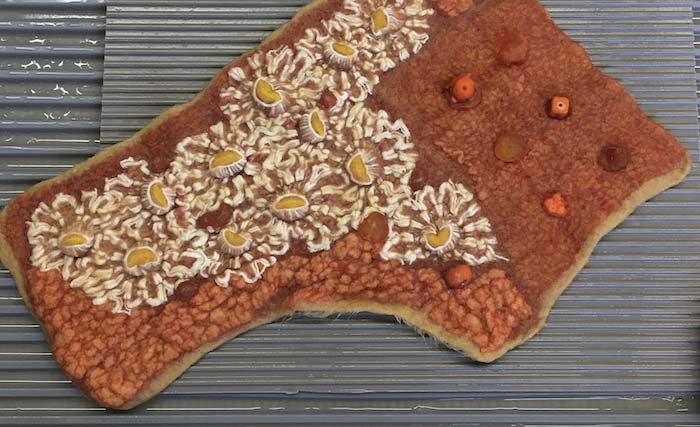 *Intermediate & Advanced | suggested time: 5 day course
Develop your own imagery in felt through the wet felting technique of arranging partial felt in a mosaic. Participants will reproduce their drawn images and/or existing images of their own choosing from hand made partial felts shrunk to a specified degree of possible shrinkage to achieve image clarity on a background of fiber without blurring or buckling. This class offers skill building for drawing with proportion and perspective as well as knowledge of the color globe for hand carding tints, shades and intensities of fiber in order to render objects realistically. Images will be embedded in a composition incorporating pre-structured fabrics fused with felt to add texture, pattern and to support the concept. Free-motion machine embroidery, will then be applied to further define shapes, add details of shading and tinting, more texture and perhaps some text?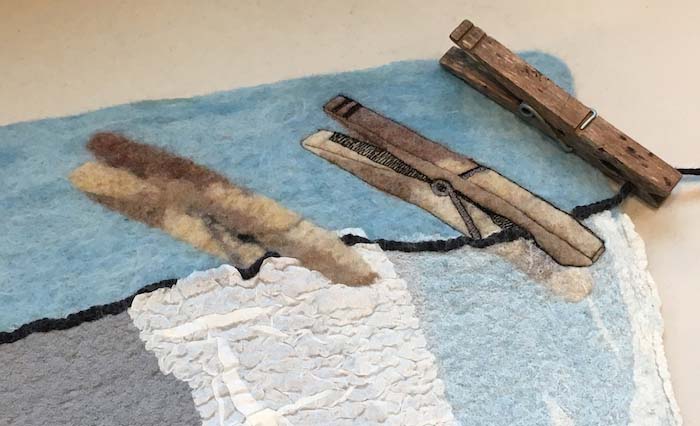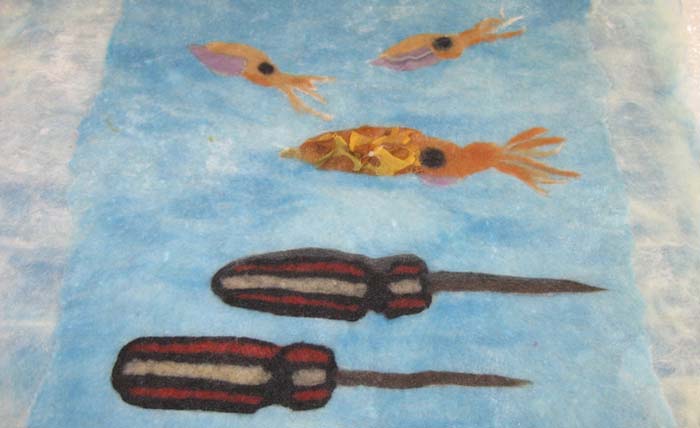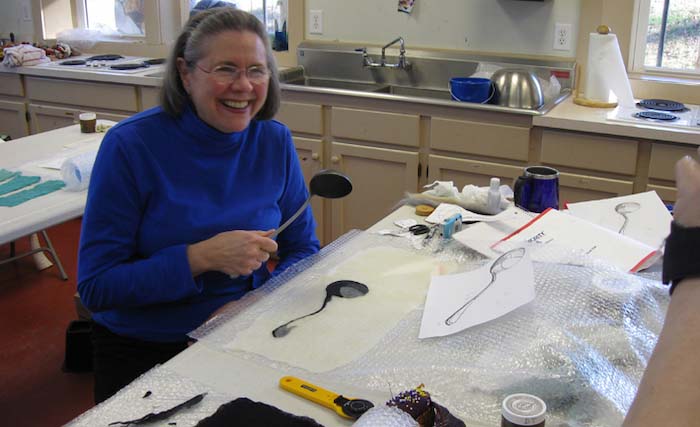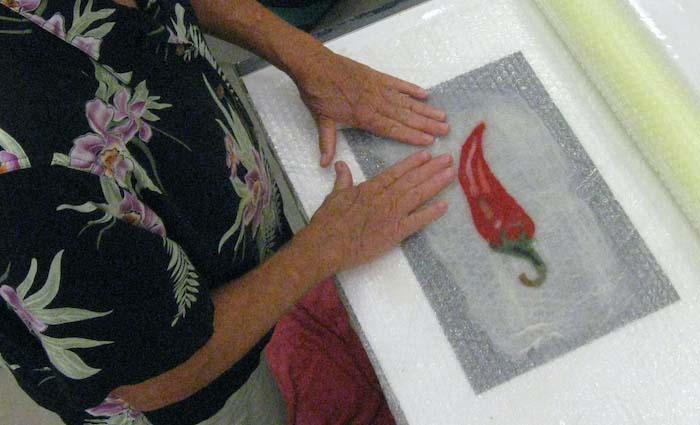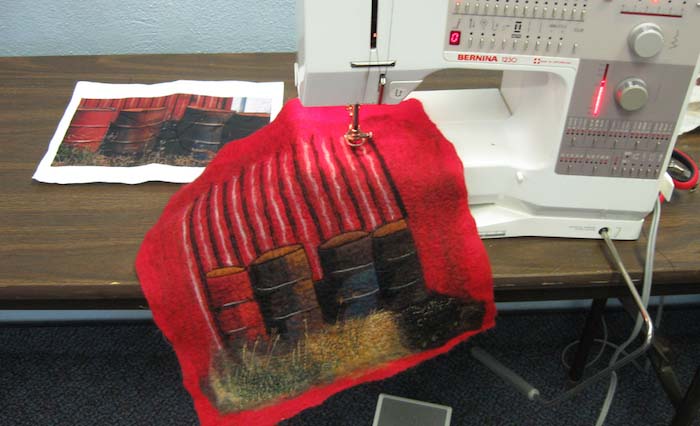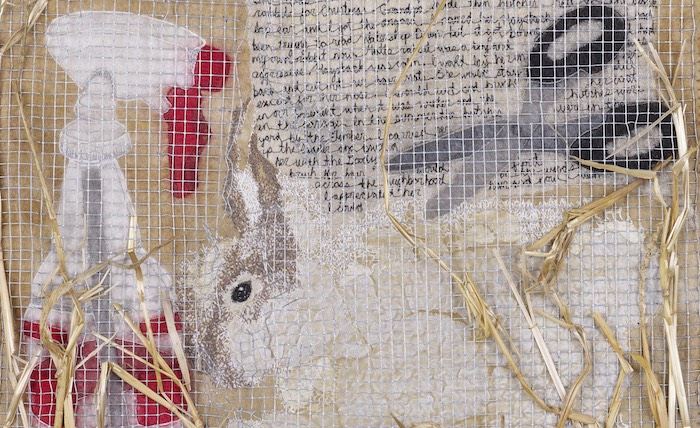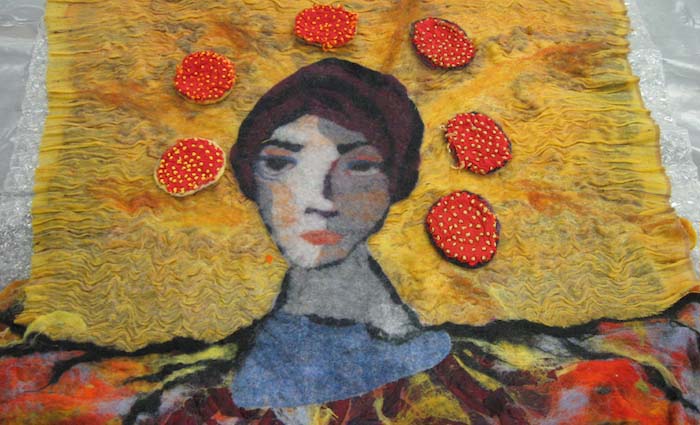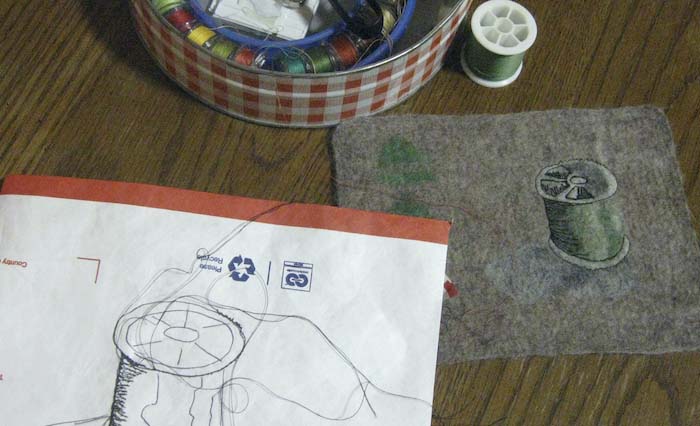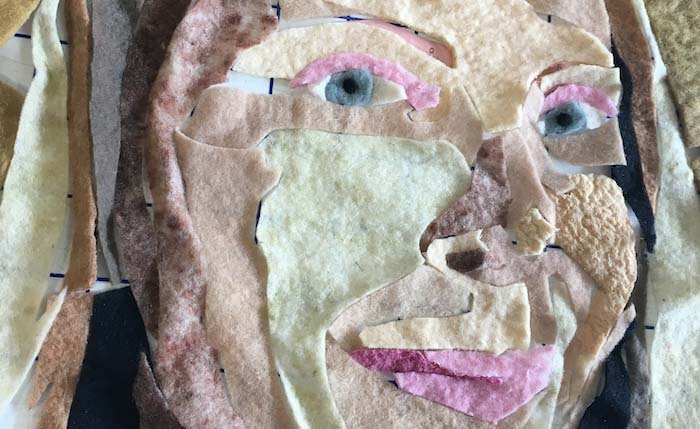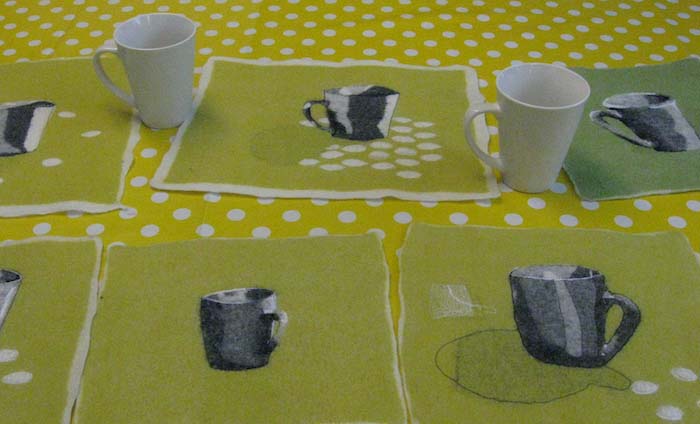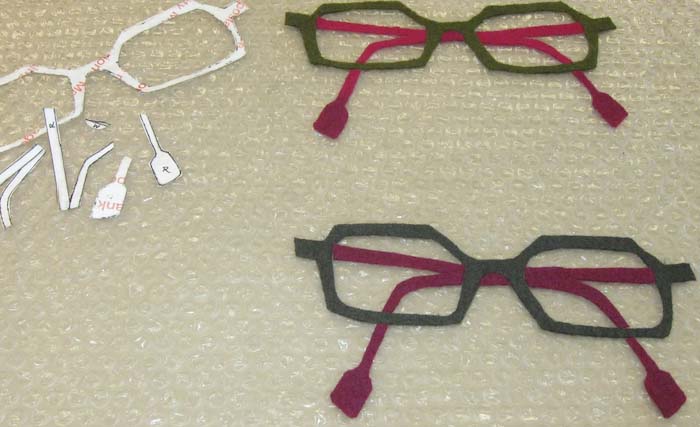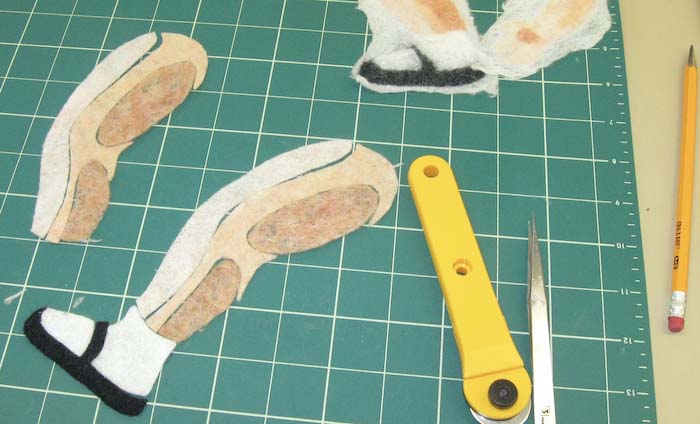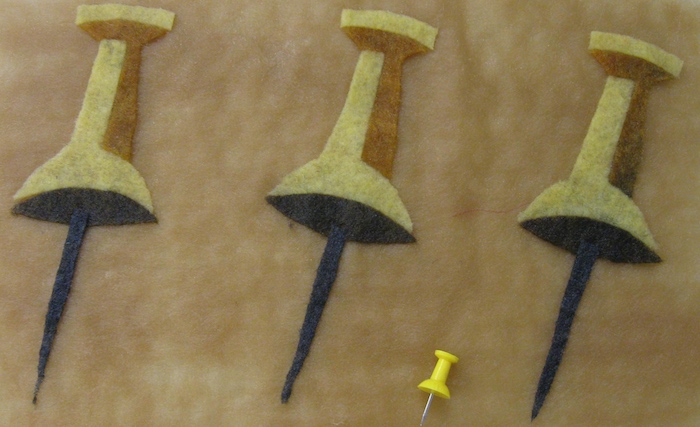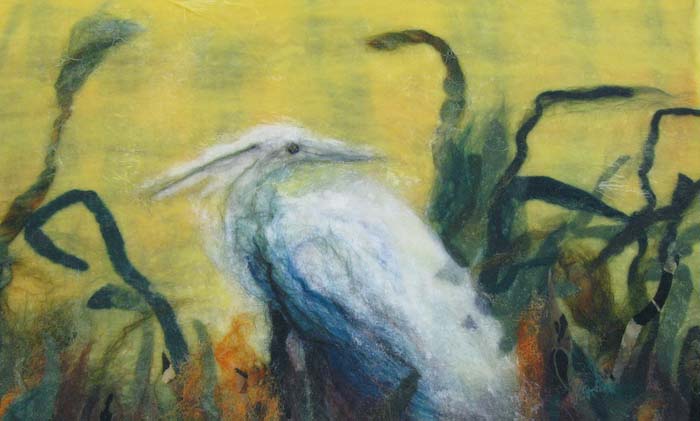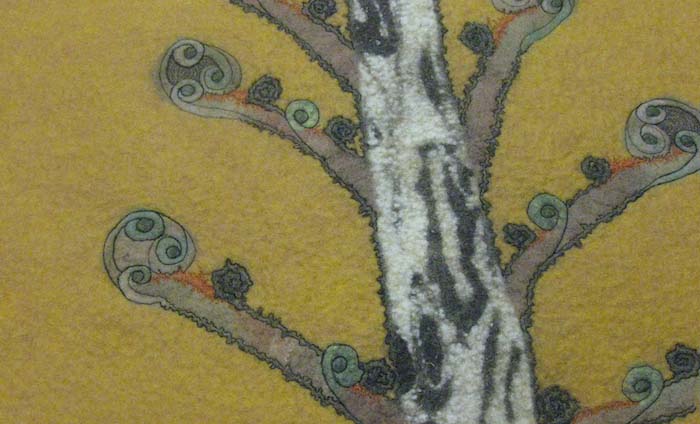 Course Descriptions:
Three-DIMENSIONAL FELTING TECHNIQUES
Please click arrow for the course description
*All levels | suggested time: 3 day course
Explore solid felt forms of spheres, discs, barrels, cones, hoops and cords. Learn graceful connection techniques for wet felting these basic forms together to make more complex clasps, hinges, and undulating cords applicable for adornment, wearable closures and/or sculptural elements. Learn the appropriate tension and crosshatched preparation for dry wrapping and needle felting when preparing solid forms for wet felting. This technical sequence provides ample air space for shrinkage resulting in well-integrated surfaces that won't pill! Additionally, explore the integration of partially felted shapes in the dry preparation to create more geometric forms by providing specific areas of greater felt density.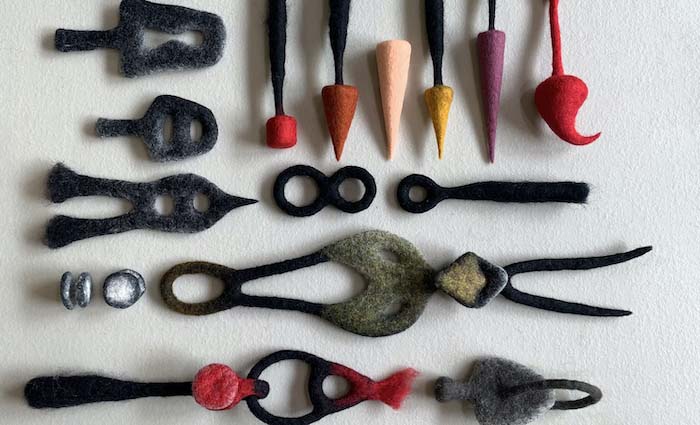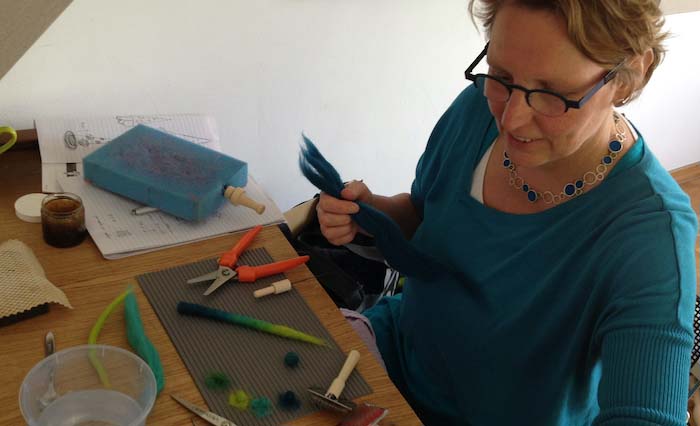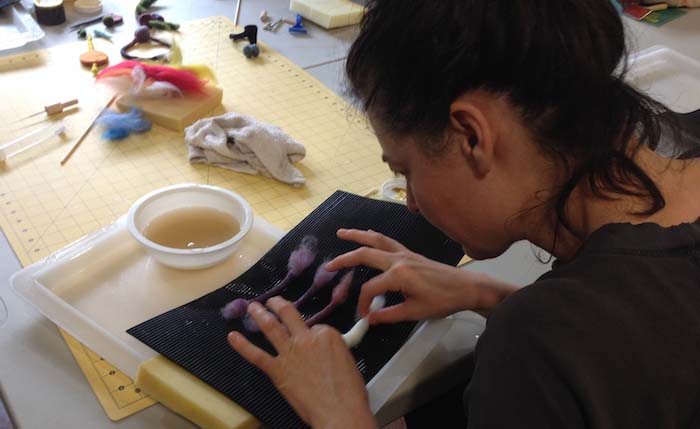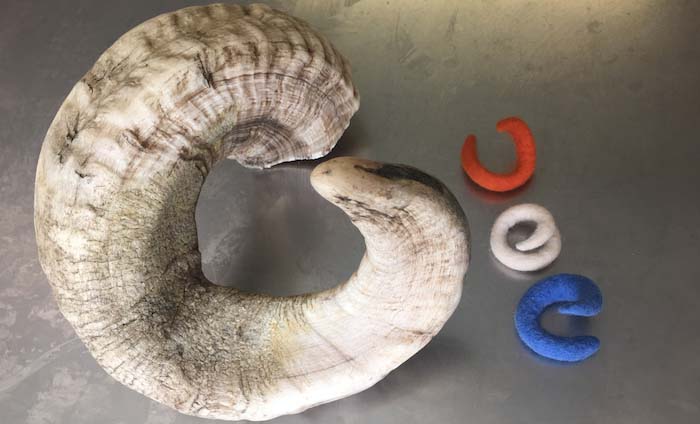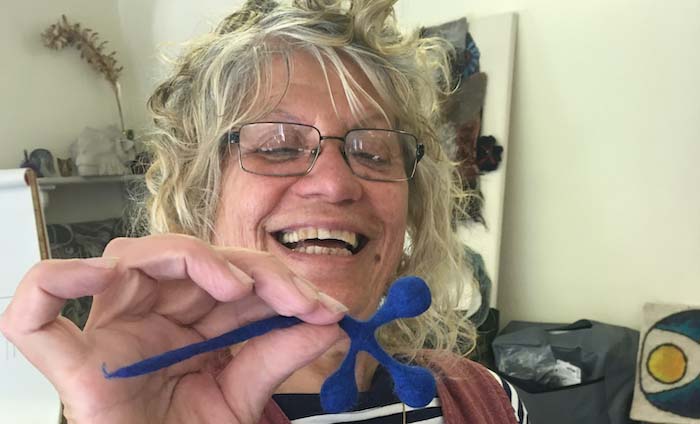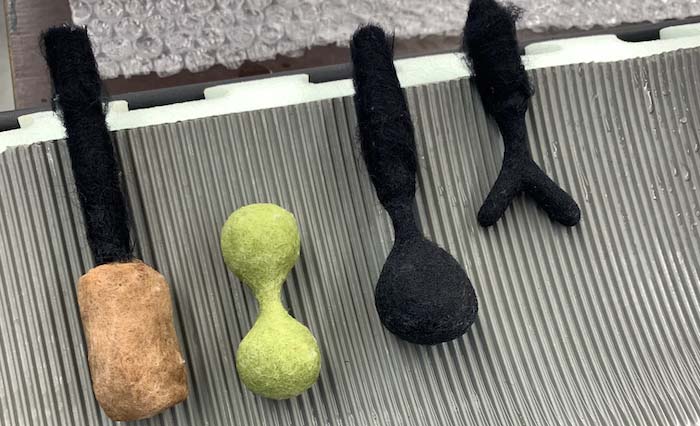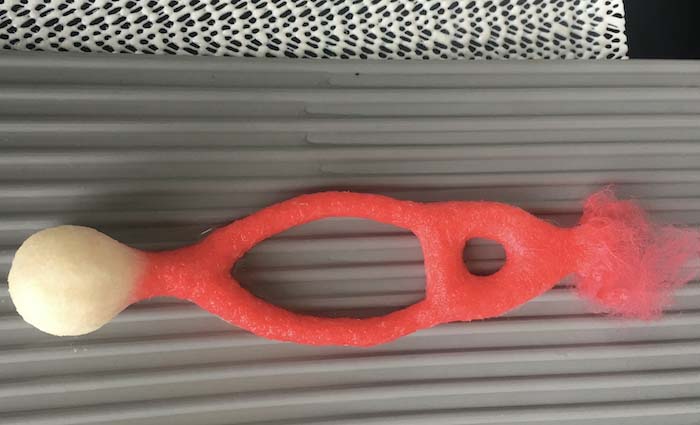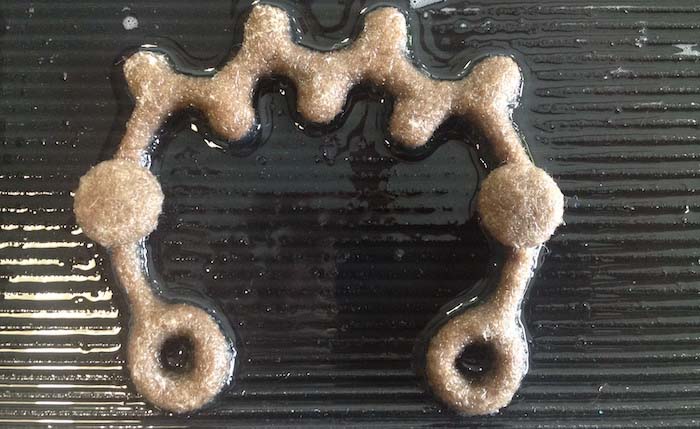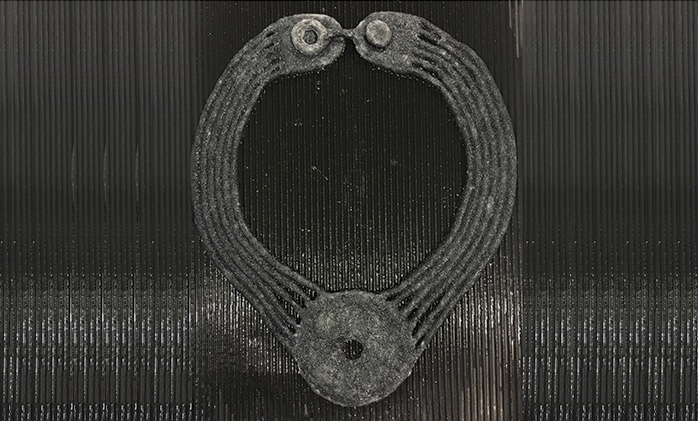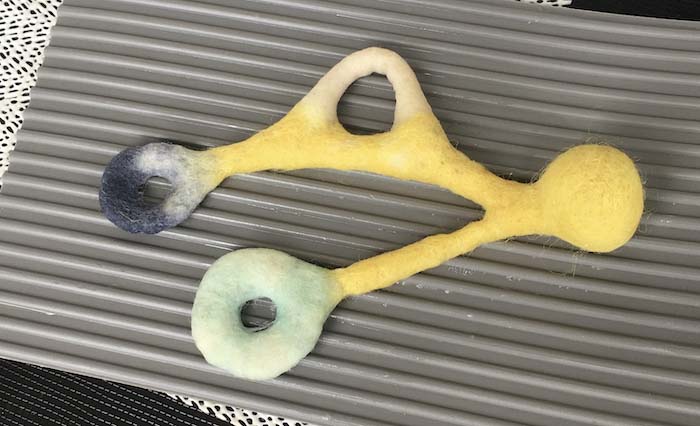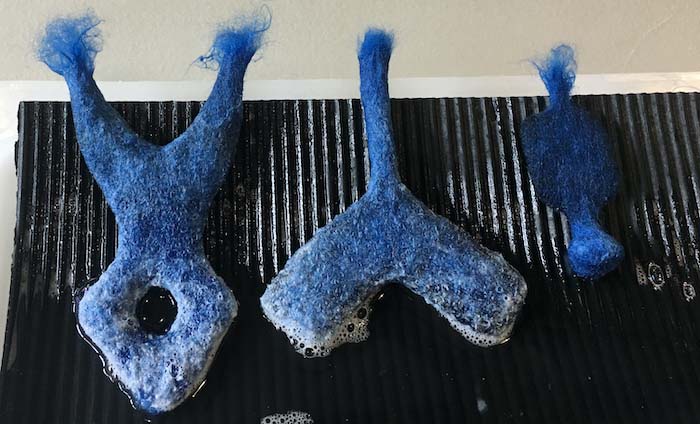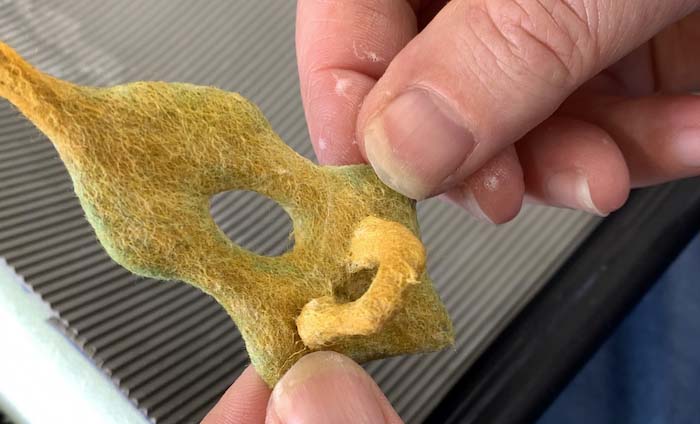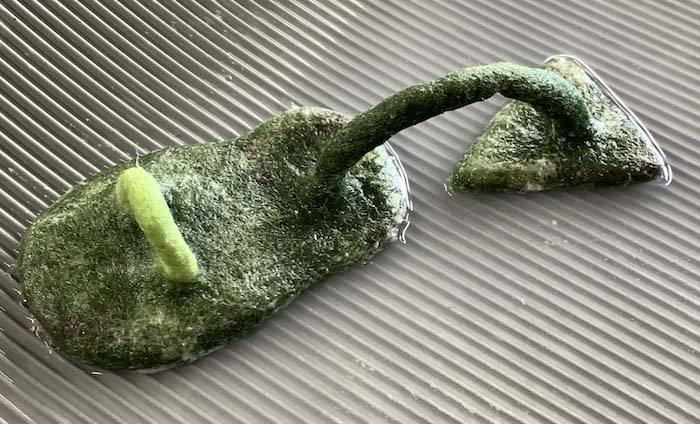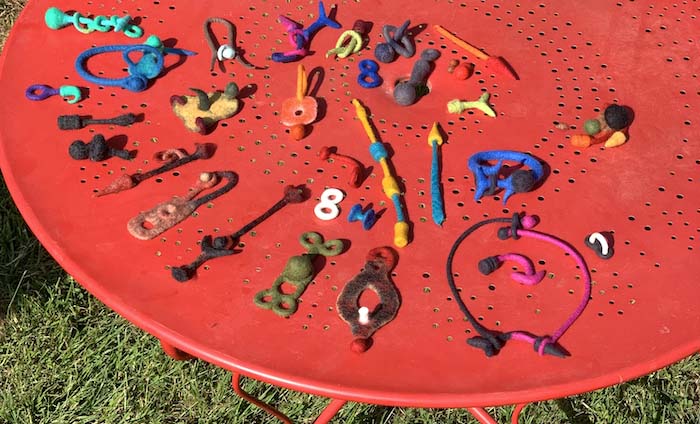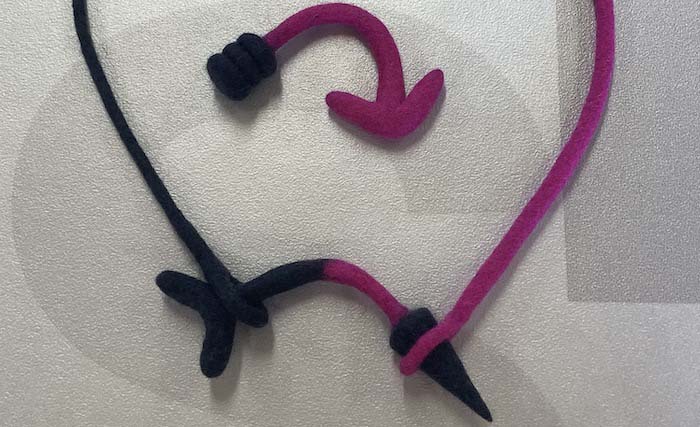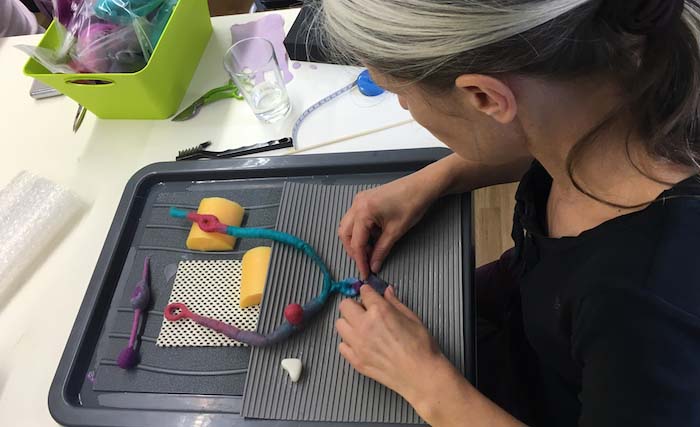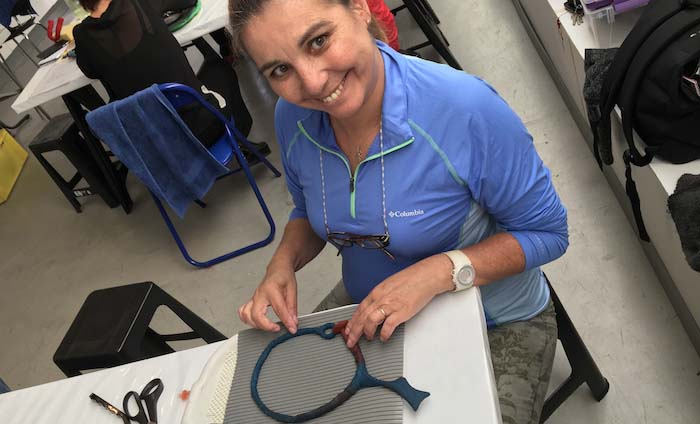 *All levels | suggested time: 4 day course
Participants will study and explore numerous ways to bring three-dimensional surface textures to otherwise two-dimensional felt. The use of surface resists will be employed to create high-relief planes and pockets. The application of thick partial felts to a thin background fleece will result in undulating surfaces as a result of differential shrinkage and circumferential fulling. Combine these concepts of resists and partial felts to raise hollow forms from within the surface plane. Additionally, learn to attach basic solid felt forms of cords and balls (created by needle and wet felting techniques) to a surface plane.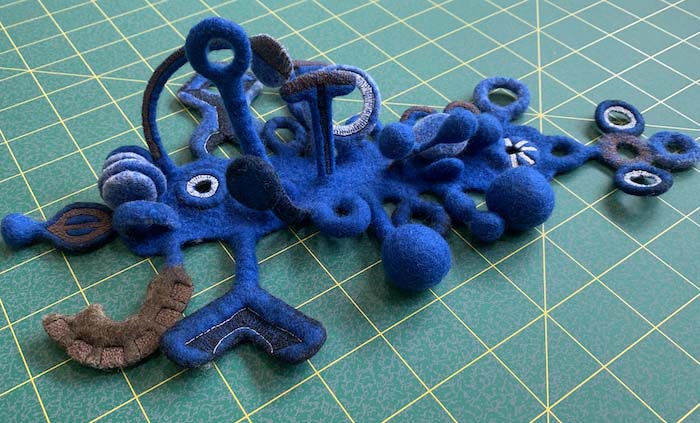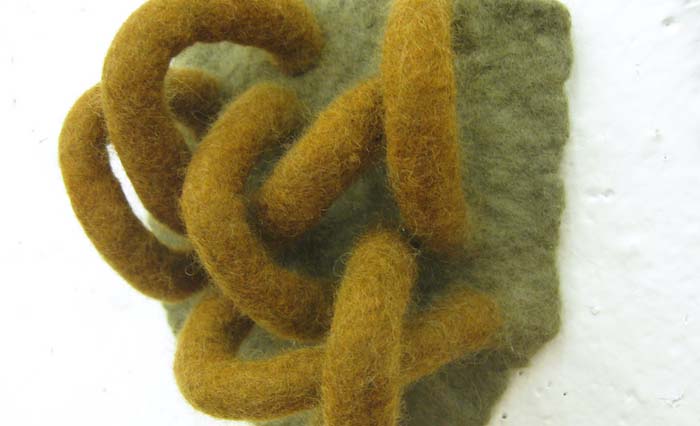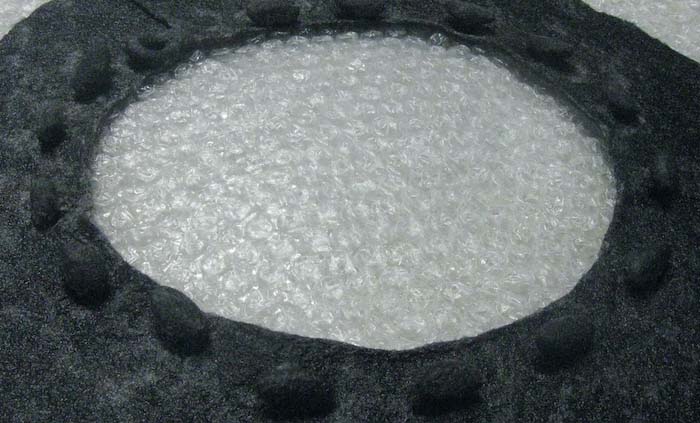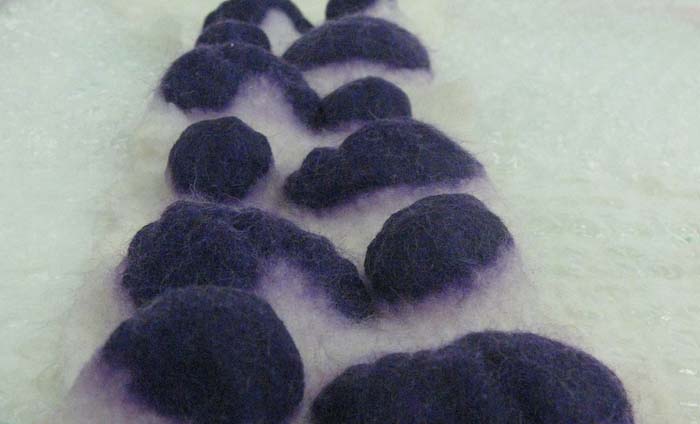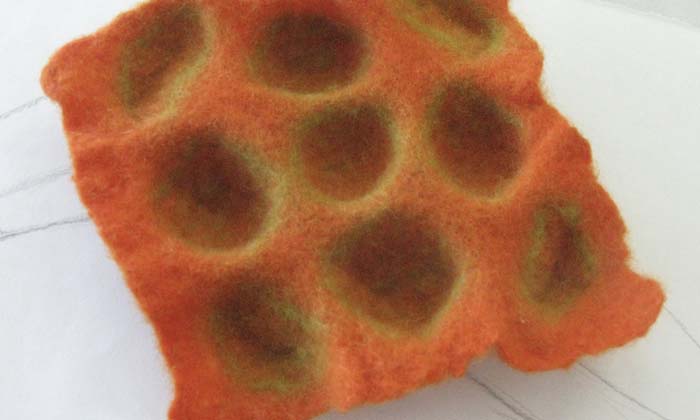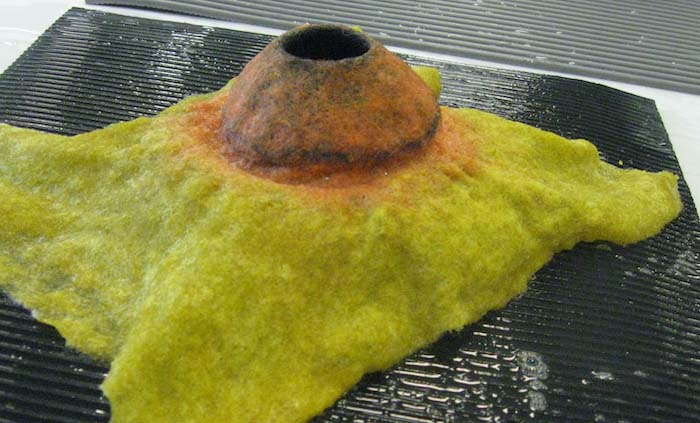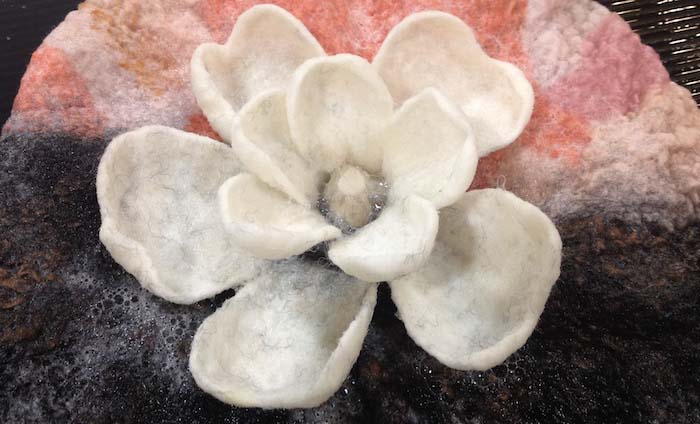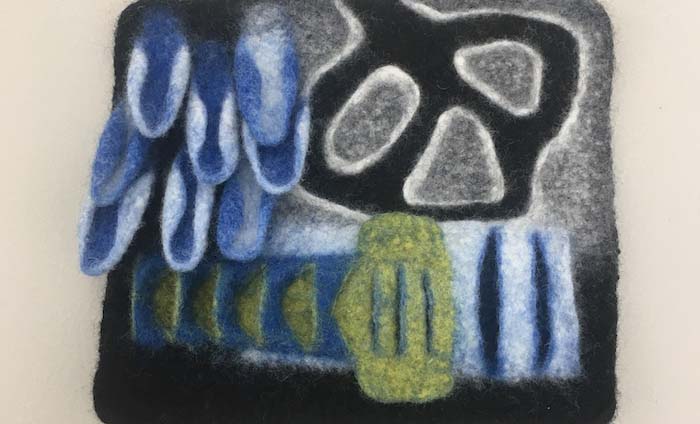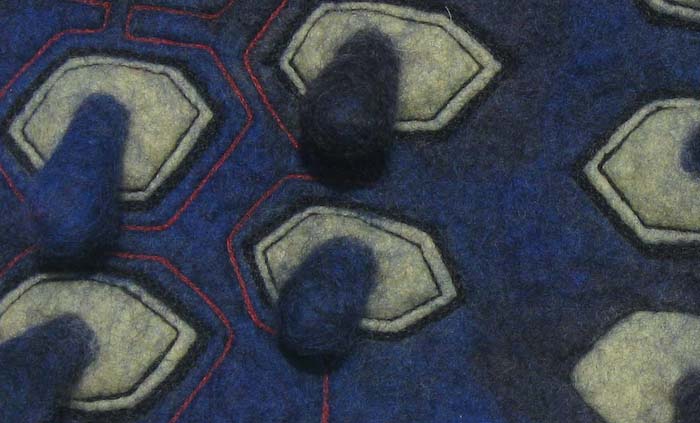 *Intermediate & Advanced | suggested time: 4 day course
A course combining multiple three-dimensional techniques for small-scale object refinement. Design unique hollow forms and bails for hanging by using two-dimensional resists.  Learn to encase durable found objects to add color, texture, material complexity and conceptual relevancy to your work. By simply wrapping fiber around an object one doesn't provide ample space for the fibers to felt and therefore one must employ a resist larger than the object, which involves just a little calculation! Additionally, layer surface resists and partial felt to raise dimensional planes and explore the application of partial felt in a hollow form layout as a shrinkage resist to create convex surface protrusions that sculpt the form.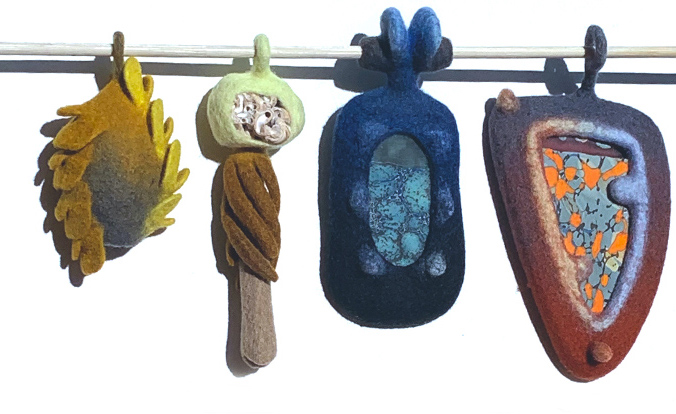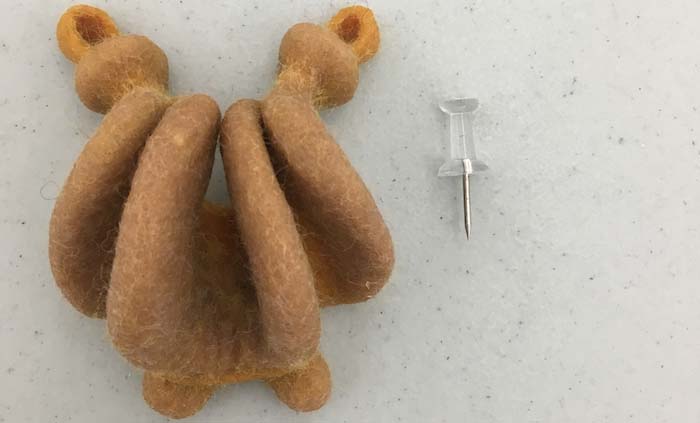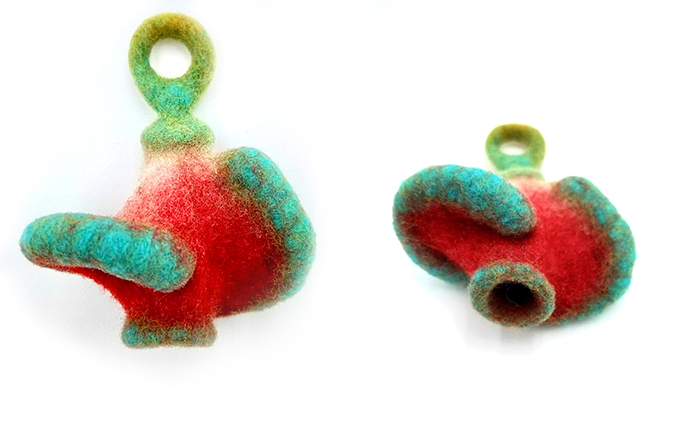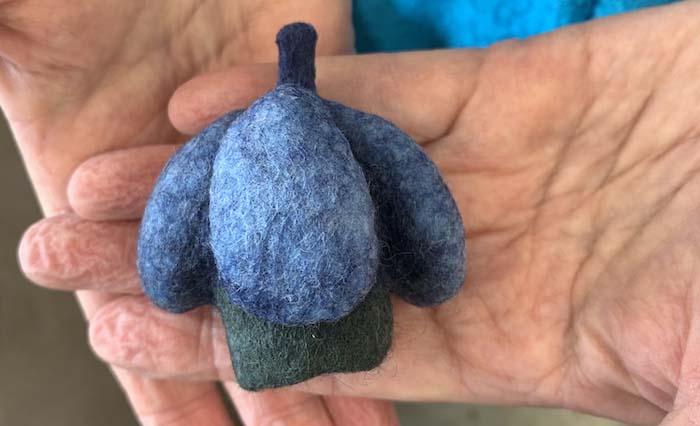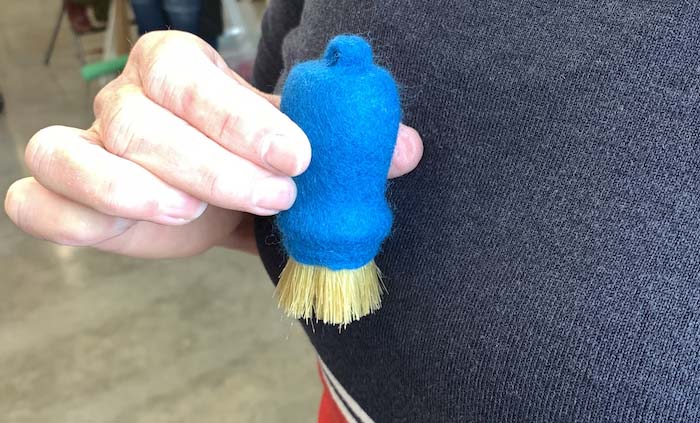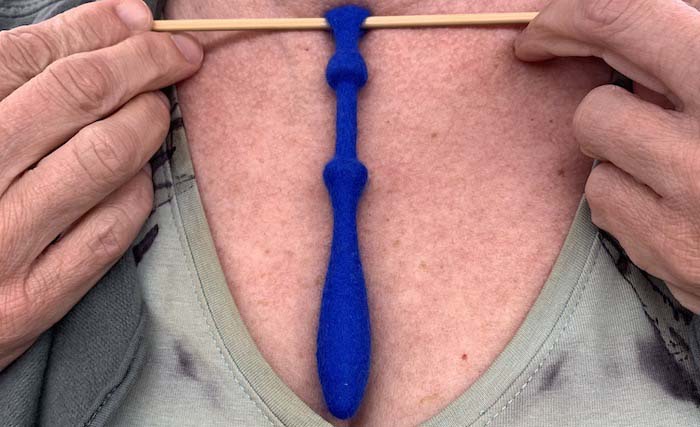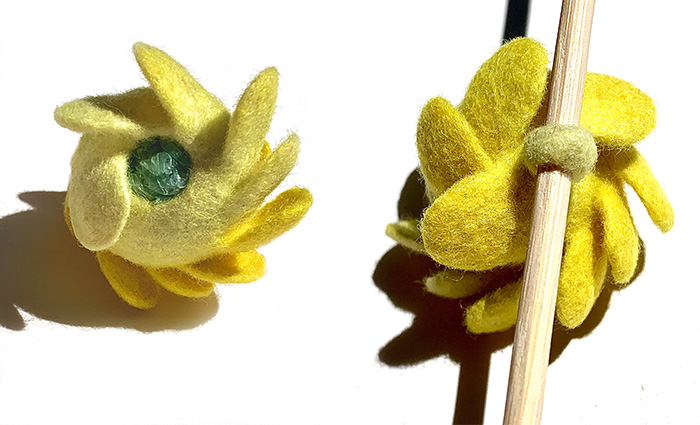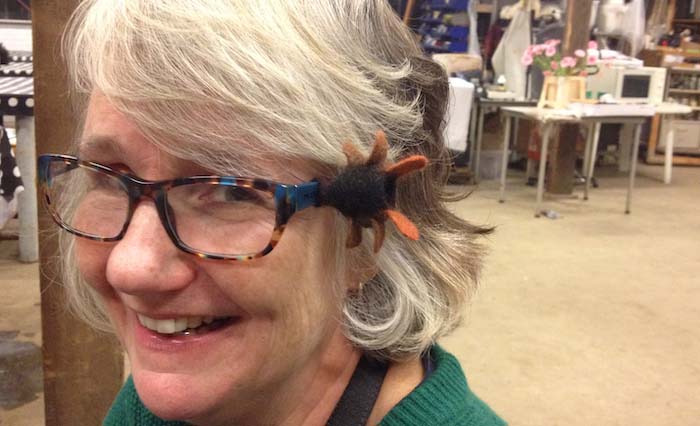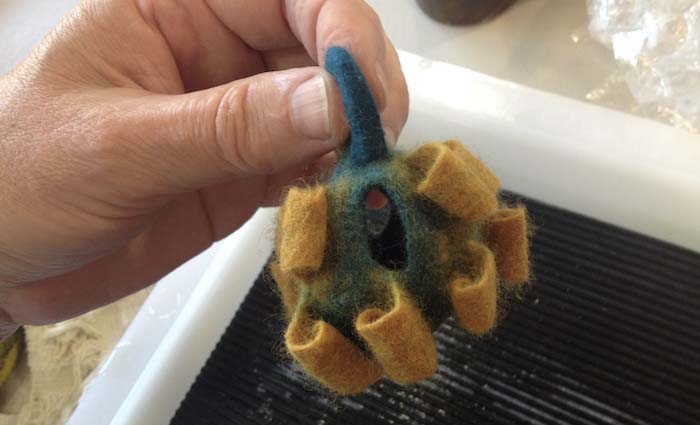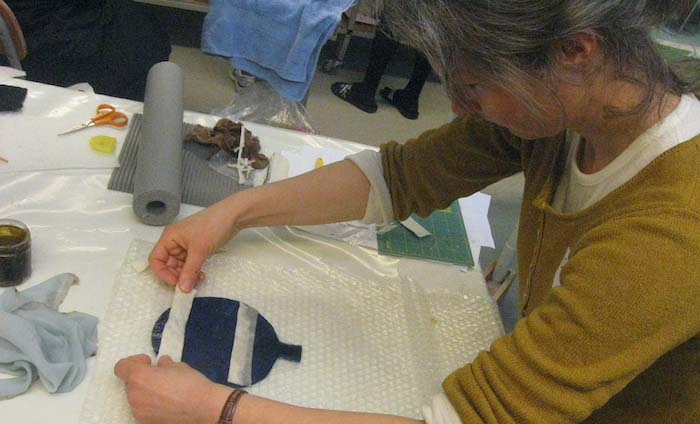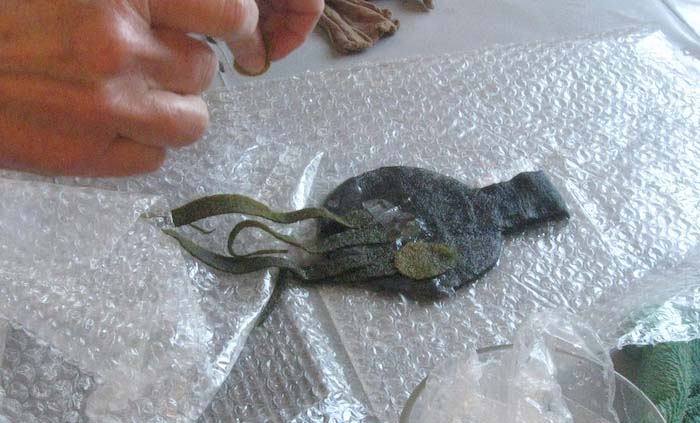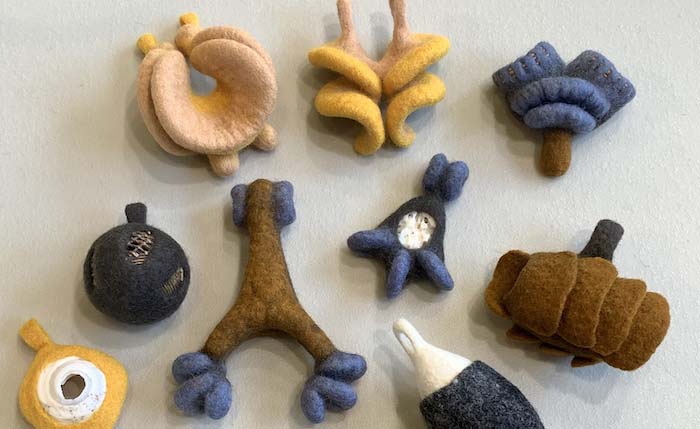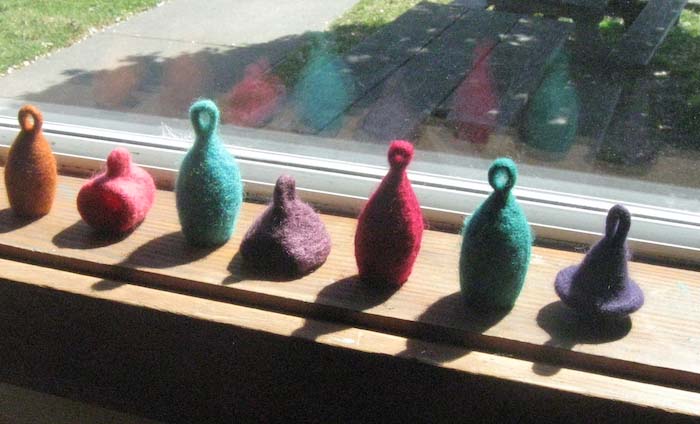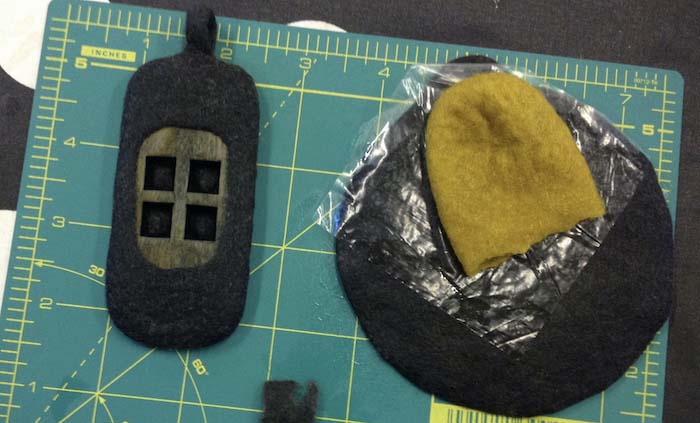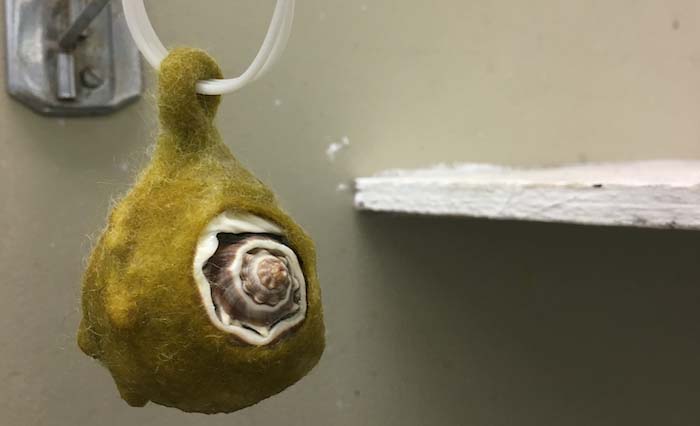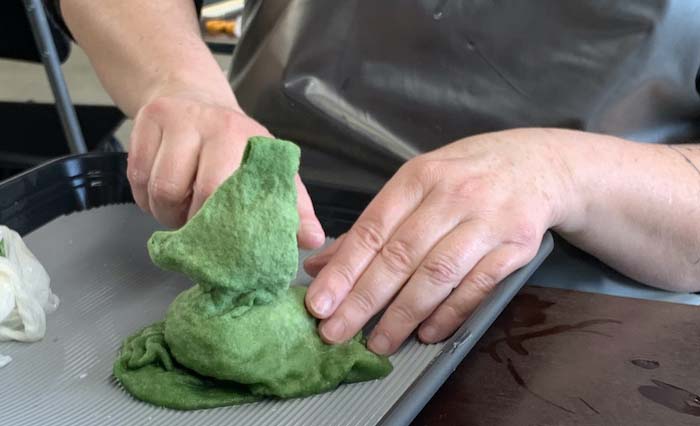 *Intermediate & Advanced | suggested time: 4-5 day course
Learn technique for layout/wrapping of various 2D resist template shapes in a consistent thinness of wool fiber while simultaneously integrating distinct areas of denser layout and partial felt shapes to exploring differences of shrinkage as a means of sculpting surface relief and hollow form. In addition to raising form and varying the shrinkage of the form's wall, applying perimetral fulling of the incorporated partial felt allows one to alter the surface plane to achieve deeply concave and robustly protuberant curves while sculpting forms previously unimaginable. Participants will make partially felted sheets of fiber in varying thicknesses and states of structural integrity to cut and apply in their fiber layout. Studies will focus on raising a form from a single 2D plane, sculpting various hollow forms from a circular template, expanding possibilities with various template shapes and in a 5-day course, exploring 3D partial felts! Proper fulling, the thickness of the vessel's wall in relationship to its surface area and interior volume and the amount of and placement of denser areas of partial felt as structural support will determine the forms integrity. Hand stitched structural ribbing , steam blocking and shellac stiffening can then be applied to further refine the form's posture and presence.