Online & On Point! Coursework
Link here > ENROLLMENT NOW OPEN < Link here for Course 1/Edition 6, Sept 4- Nov 13 with access through Jan 22, 2023!
Whether you prefer to watch an entire process or lesson first and then physically engage yourself, work along with the demonstration making use of the pause and rewind buttons and/or watch the videos numerous times, by having control of the pace of information delivery, rather than being in a time restricted workshop setting, different levels and styles of learning can be better accommodated. Chat rooms can provide camaraderie for those spending time with the same unique experience if participants engage through images, questions and ruminations. Most exciting, the extended time for delivery allows for continuity of learning intertwined with individuals' lives where studies intermingle with personal environments, ideas and aesthetics resulting in rewarding diversity in the outcome of course projects and therefore, more extensive learning for all. 
OVERVIEW OF THE FELT JEWELRY SERIES: MATERIAL, TECHNIQUE & IMPACT
Learning is focused on how wool's properties inform technique for dry fiber preparation/layout and wet felting to build integrity of felt material while simultaneously developing specific form and surface in a small scale format. By no means, however, is the extensive content of the series applicable only to making smaller objects as the methodology offered can guide those interested in working larger to modify the size and weight of fiber layout. The nuanced conditions for wet felting and fulling including the assistance of soap, water, temperature and agitation surfaces as well as the force of the maker in their rapidity of movement and infliction of pressure, are articulated in response to the state of the wool at any given time. Each course in the series is developed around a core concept that is applied to solid forms, 2D planes and hollow form. Modules within a course are organized intentionally to build on prior learning so to be able to push into new territory and like the courses in the series, are meant to be experienced sequentially. To use the analogy of home construction, Course 1 will lay the foundation and framework, Course 2 will apply the flooring and dry wall (structural, but also effecting the surface) and Course 3 will lay the rugs, hang the curtains and place the art.


COURSE 1: FOUNDATIONAL STRUCTURE
Wet Felting Solid Forms, 2D Planes, Hollow Forms for Encasing Objects & Connections for Composing
6 learning modules, 10 weeks, 2 supported projects, 22 participants (2 scholarship seats)

Course hosted on the Ruzuku platform. 
Course Fee $745 payable with Paypal or a credit card through Stripe 
(a payment plan is now available for $390 at registration and $390 one month later)

Link here > ENROLLMENT NOW OPEN < Link here for Course 1/Edition 6, Sept 4- Nov 13 with access through Jan 22, 2023!
18-30 years of age? Apply for a NEW GENERATION SCHOLARSHIP.

Develop an in-depth understanding of foundational structure for refinement, strength and flexibility in wet felting based on the concept of space for the wool filaments to move and the direction of encouragement by the maker. Multi-dimensional form will be constructed through connecting solid forms, 2D planes and a variety of felt encased objects within one continuous felt skin and by employing strong clasping/hinging mechanisms. Ideally, demonstrated studies are meant to be repeated, modified and uniquely coalesced to become pathways to approach your ideas and visions rather than to repeat those of others.
Solid Form Felting is the topic for Modules 1-3 and one module will become accessible per week starting on a Sunday for the first three weeks of the course and will continue to be accessible, as will all modules, through the end of the formal course instruction + an additional 10 weeks. Each module contains an average of 1.5 hours of video demonstration divided into two segments and a PDF that outlines the content, clarifies the math involved in assessing layout & shrinkage and will assist with long term retention.  Module studies are suggested, completed at your own pace and level of extensiveness during that week and participants are encouraged to post pictures, questions and comments for group discussion on the chat forum. A design prompt will be given for week four and participants will implement their new learning and compose/propose a project based on their personal aesthetic. Each participant will have an individual zoom meeting ideal for their time zone for direct instructor feedback that may or may not be open to the entire group depending on that participant's preference, keeping in mind that everyone will learn more if these meetings are shared experiences. Making the project will ensue after the design meeting and finished work will be posted when completed during week 5 for showcasing/critique. Similarly, 2D Plane and Hollow Form for Encasing Objects will be the focus for the next three weeks of Modules 4-6 followed by another design prompt and the same format for a second project for a total of 10 Weeks. Examples of the studies from Module 1-6 can be seen below along with participants' projects from prior editions that began in the summer of 2021. Additionally, course projects can be viewed on the Post-Secondary Coursework teaching page from when the content of this course was delivered online during the summer of 2020 though NSCAD University.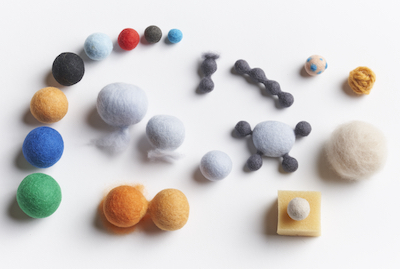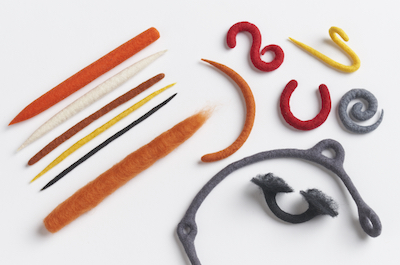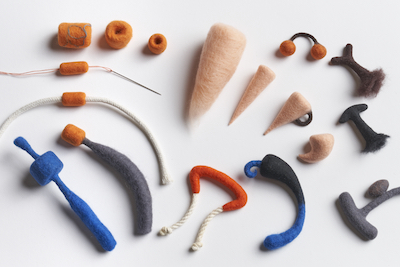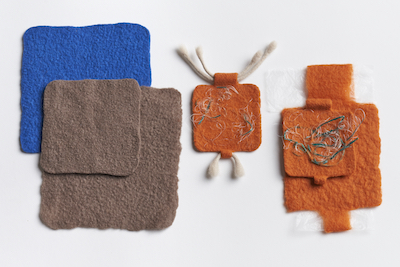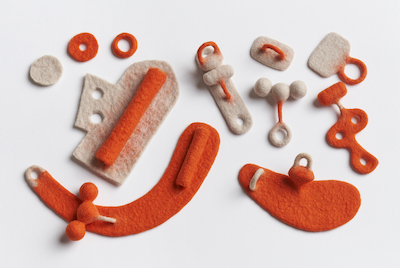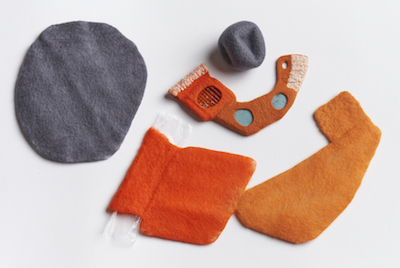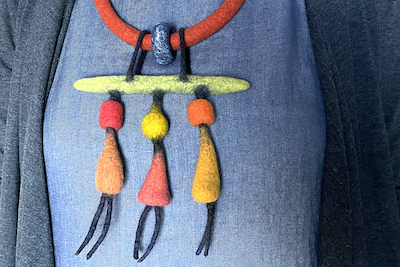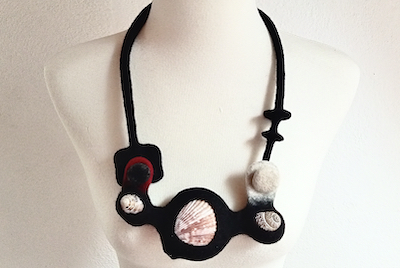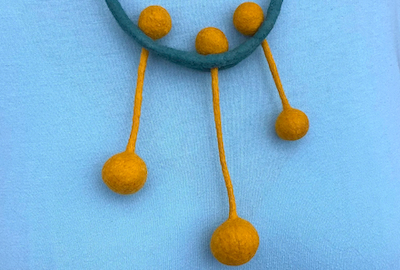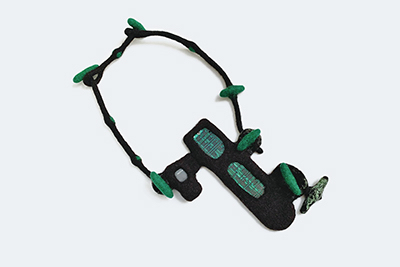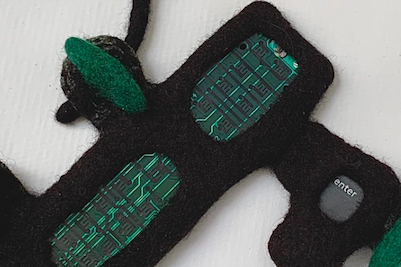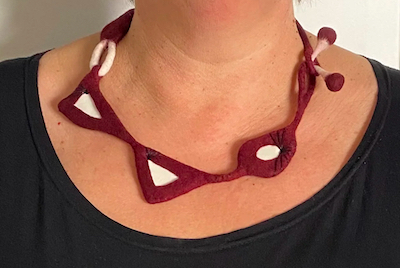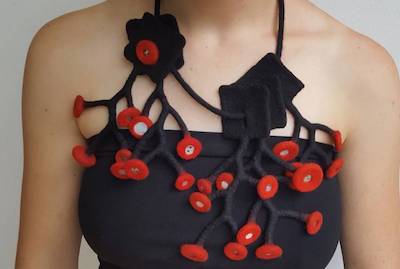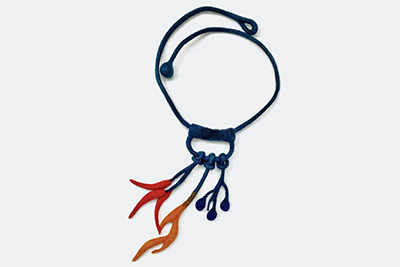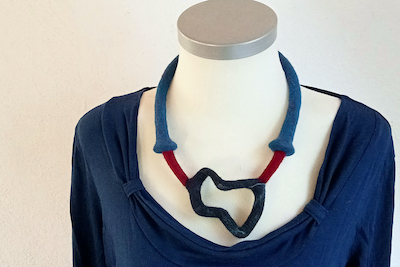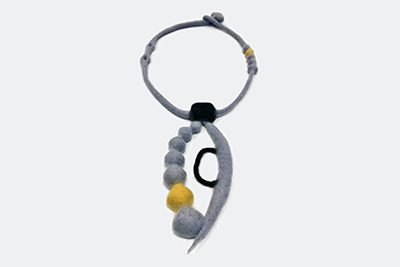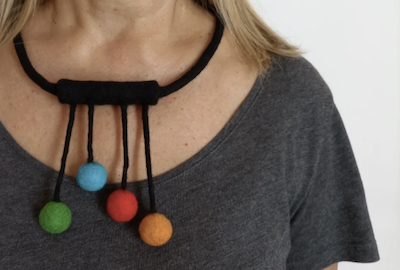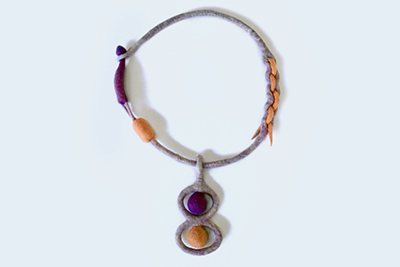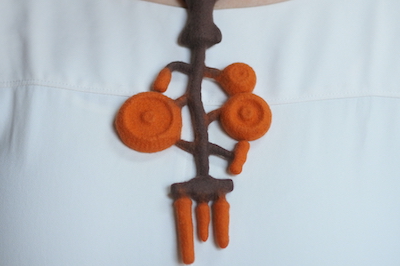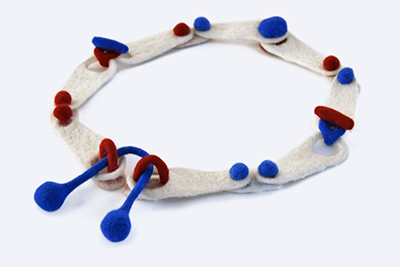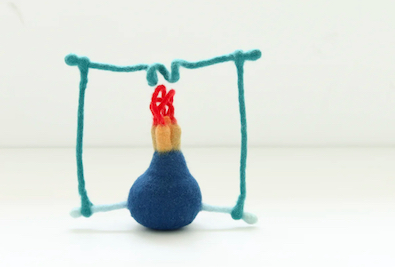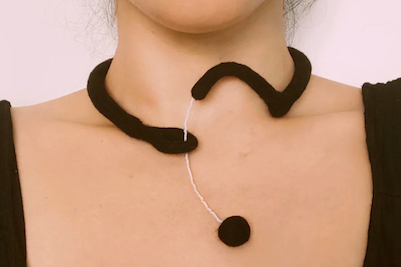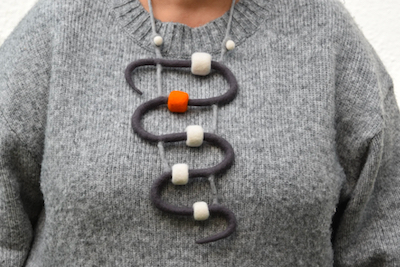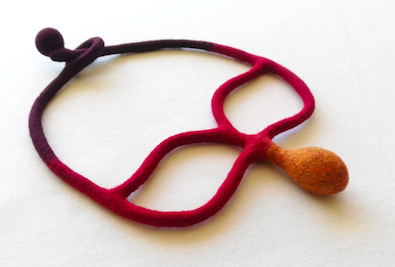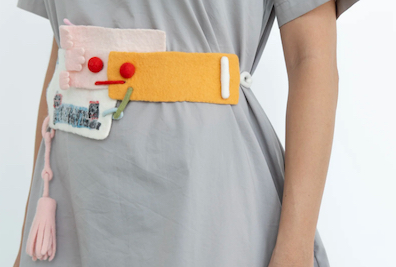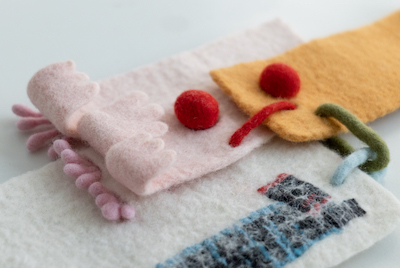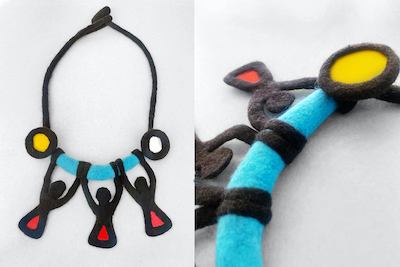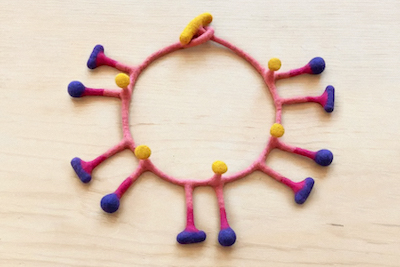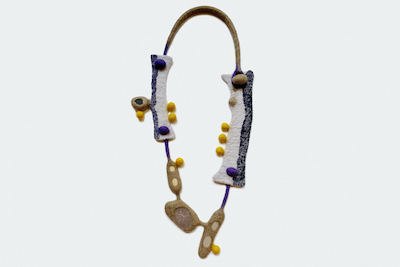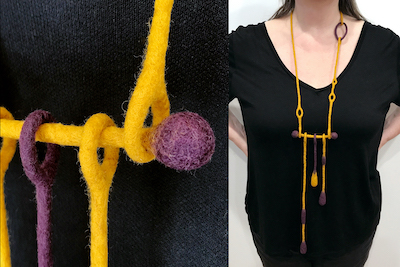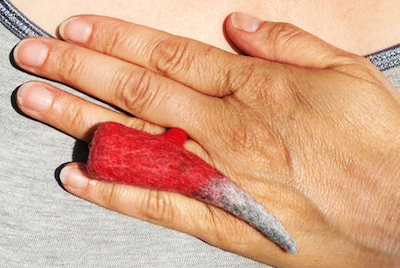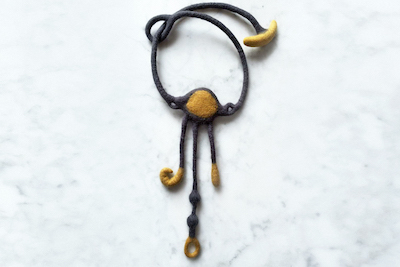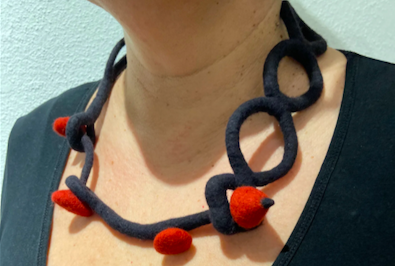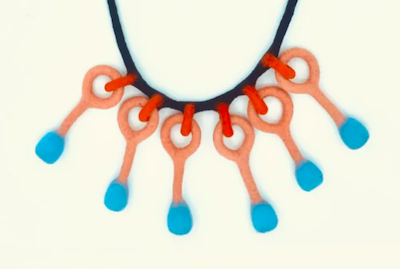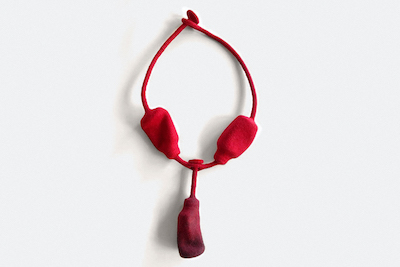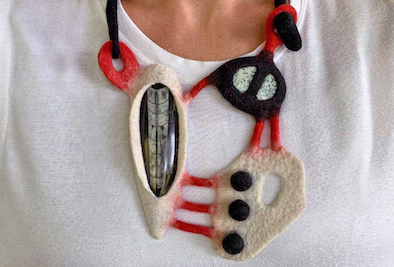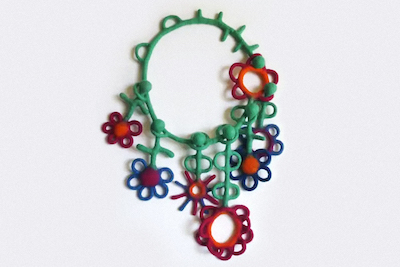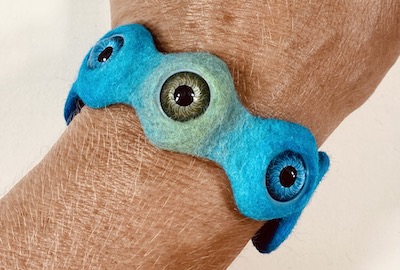 Course 1 content is equivalent to that of approximately 8-9 days of face to face STRONGFELT workshop content + 2 supported projects. Nearly 9.5 hrs of video instruction with a broad and close up camera angle may be accessed for 5 months from the beginning of the course (double the course length), but will not be downloadable. 40 pages of PDFs will be printable. 

No materials provided.
Upon enrollment, participants will receive a welcome email and access to an introductory video illustrating an ideal set up for working, household and easily accessible tools/equipment to gather and a few items to order if not already a well stocked fiber enthusiast/felter. Print the accompanying Equipment, Tool & Material list PDF for specifics about sizes and amounts so you can be prepared to begin the course on the date scheduled.
The course is in English. Participants will need computer access, a strong internet signal and a digital camera/phone for sharing and documenting your work. Basic computer navigation skills suggested.

Content is © 2021 STRONGFELT, inc. Please do not share your access to the online video or pdfs as this is nearly two decades of my experimenting, analyzing, refining, as well as detailed articulation & sequencing for optimal instruction. Do please encourage those you feel would enjoy and benefit from such learning to take the course as this will allow STRONGFELT, inc to continue to produce additional courses of high quality. Thank you.
TESTIMONIALS
"I took the foundation felt jewelry course online from Japan. I was able to learn smoothly with the organization of the stages of the course and courteous responses of the instructor. I learned more than expected with videos, group reviews of projects and asking questions through chat and email. I was most excited with confining solid objects in felt. The possibilities expanded beyond imagination." -Sawori Yoshioka
"Lisa's on-line felt jewellery class was both challenging and exhilarating! The combination of video instruction and in person feedback provided a complete learning experience that was well paced and easy to understand. Samples of new techniques were created weekly and then applied to projects. I now have a valuable reference library of samples in various sizes as well as completed wearable jewellery pieces. Each video was very thorough with methods clearly explained and documented and the "in person" on line meetings provided an opportunity for interaction and critique with both Lisa and fellow students.  A great class for anyone wanting to learn the technical aspects of different clasping methods and how to make consistent well finished felt shapes as well as exploring your own jewellery aesthetic.  I thoroughly enjoyed Lisa as an instructor who pushed my boundaries, and I am looking forward to taking more classes with her." -Sandi Luck
"This is my third workshop/class that I have taken from Lisa and in every class her handouts have been superior, and I refer back to them all. the. time. and these handouts will be no exception. With each exposure something new stands out that I may not have paid close attention to the first time. I also believe that like in my martial arts training it's always good to review basic technique. I have a deeper understanding of the math, due to more exposure and practice. I have a sketchbook of ideas that I have been thinking about and in a few cases had gotten stuck figuring how to put the pieces together and because of this class I look at those sketches and have some fresh approaches to making them that will work better than I had originally planned." -T Westkaemper

"I thoroughly enjoyed being a part of Lisa's online workshop and have learnt new techniques and processes to take forward on my felt journey.  Information for each module is presented in detailed videos with clear instruction and explanations and an accompanying downloadable pdf.  The chat forums allow students to post work and are a great way to share and support each others' progress. It wasn't a surprise knowing Lisa's work, that she would create such an amazing learning experience.  I will definitely be signing up for Course 2 and wouldn't hesitate in recommending this to anyone interested in learning more about this detailed, technical way of wet-felting." -Lisa Hayes
"Lisa's teaching style is very engaging and her felting experience was very generously shared. There is no literature available – that I could find (and I have a PHD in research) – that gives such useful insights into surfaces, connections, enclosures, layouts and shrinkage rates. My approach to felting has changed so much as a result of this course. It was such a revelation to be able to plan and sketch out a 3D design and reproduce it in felt. Lisa said the 'felt will sing' and she is so right – it's like a communion with your fingertips!" -Jan Klaver