K-12 Teaching  Residencies
TAPAS (Teaching Artists Present in Asheville City Schools) Residency
Funded by the Asheville City Schools Foundation, Asheville, NC
5th grade Science Class at Vance Elementary School, April 7-10, 2015
I proposed a TAPAS project that would result in a large wall piece that illustrated the seasonal changes of the NC Dogwood and which would remain on display at a school. Ginger Hubner, director of Roots and Wings School of Art & Design in Asheville and in a position appointed by the Asheville City Schools Foundation to assist in connecting TAPAS artists with schoolteachers, connected me with Brian Ballenger, the 5th grade Science teacher at Vance Elementary School.  Each student would have a hands-on experience working with a partner to felt a sheet of wool fiber to a certain percentage of possible shrinkage allowing for engagement with the biology of the fiber, directional shrinkage and math for measuring and assessing the percentage of shrinkage. Each student was responsible for cutting designated shapes from their felt and contributing them in a communal layout to create a composition incorporating the felted shapes of all 70 5th graders participating. The piece was then backed with silk fabric in various colors celebrating the changes in the height of the sun dependent on the season and then, finally with many layers of wool fiber. This background created a network of fibers that would travel through the layers of fabric and the previously felted shapes when rolled, unifying the components into a singular felt. The piece was then fulled, stretched on a frame and presented to the students during a school open house celebrating the concept of STEAM, the integration of science, technology, engineering, art and math.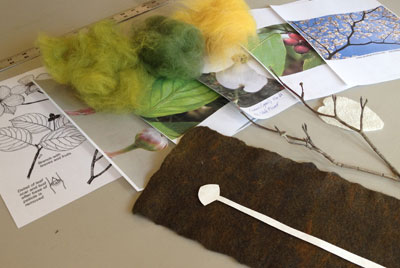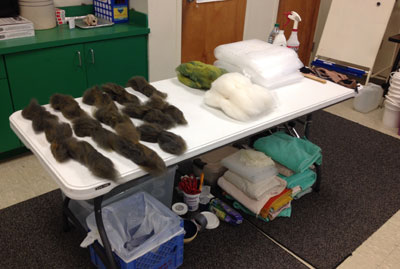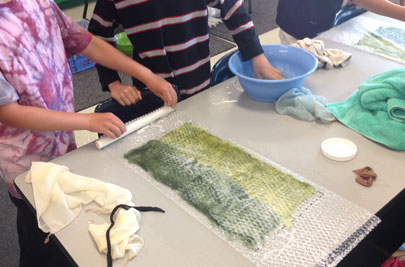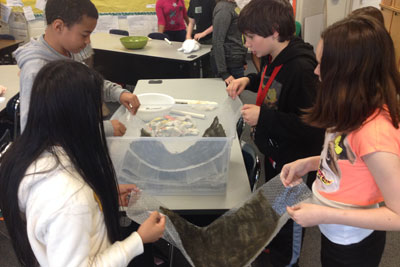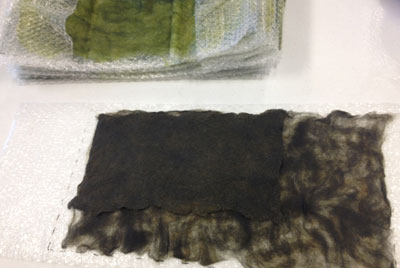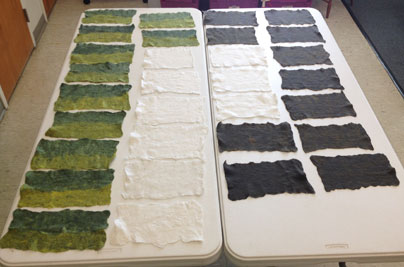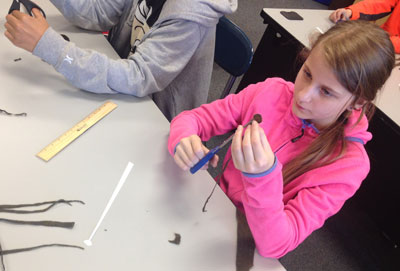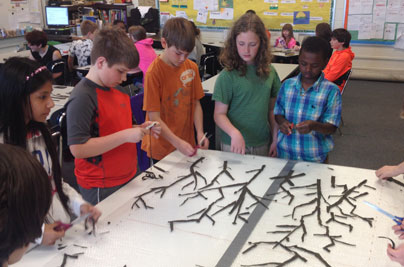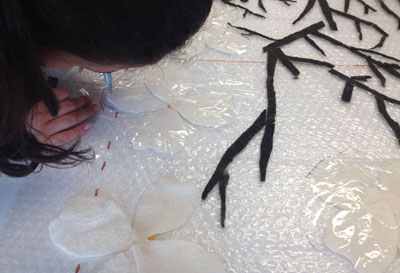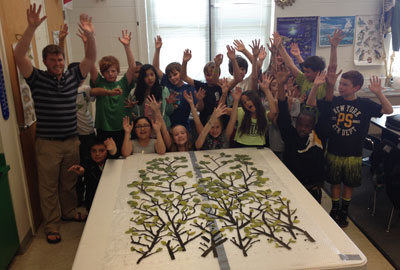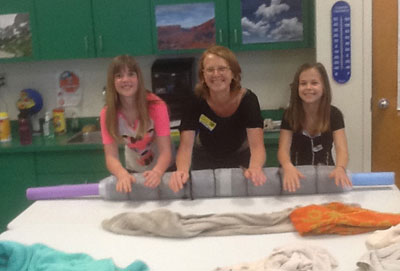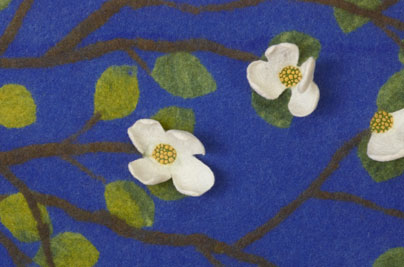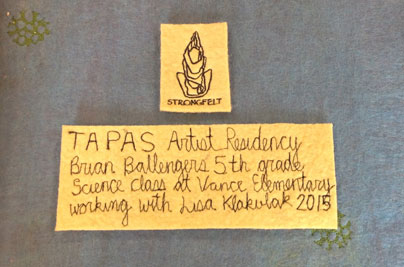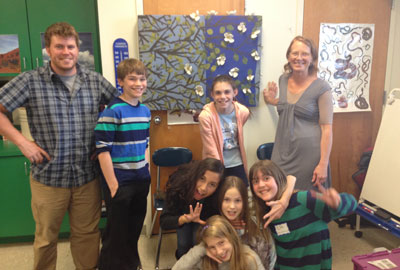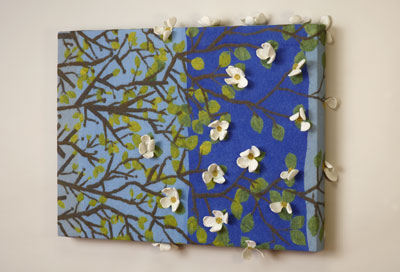 TAPAS (Teaching Artists Present in Asheville City Schools) Residency
Funded by the Asheville City Schools Foundation, Asheville, NC
4th grade Science Class at Claxton Elementary School, May 25-27, 2013
I was granted funding to spend three class periods with Neal Compton's 4th grade science class to introduce them to felting. During the first meeting I presented a slide show that talked about the process, the different animals that grew fiber, regions of the world where felting was traditionally employed for utilitarian purposes and images of my contemporary use of the medium. Students then worked in pairs to felt a small sheet of fiber from which they cut a positive shape as well as retaining the negative shape. On the last day students organized their shapes onto a background of fiber as we discussed art principles of balance, repetition, variety and focal point and began the process of felting the designs into the background through rolled agitation in bubble wrap.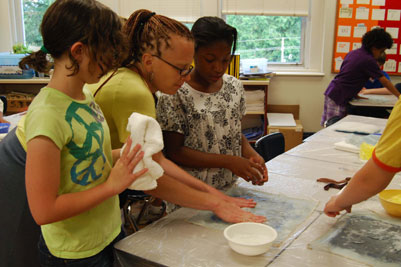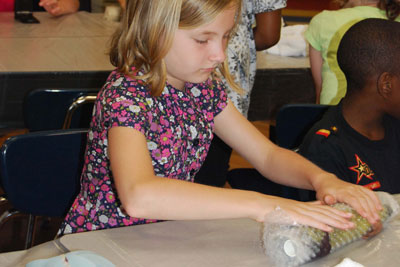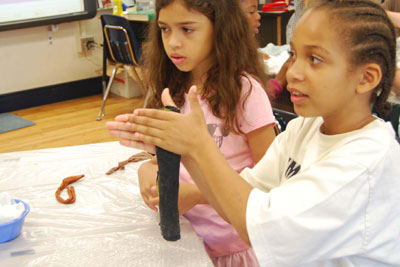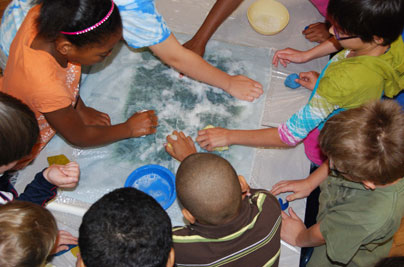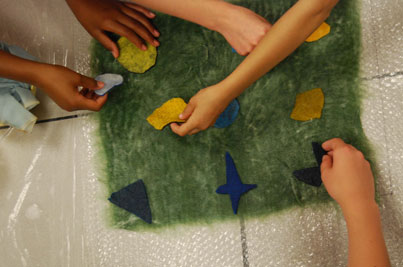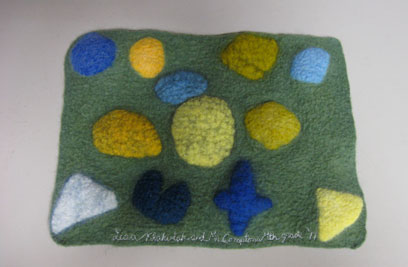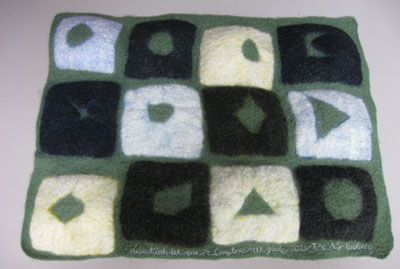 Founders Memorial Elementary School, Essex Junction, VT, 3/29-4/8/2010
While offering a felting workshop at the Northeast Fiber Arts Center, the owner, Jennifer Hoag, knowing that I worked with kids, introduced me to Founder's Memorial Elementary School's art teacher, Kerin Rose. Kerin and I worked together to propose a teaching residency at the school and the PTO funded my two-week residency. Working with 3rd, 4th and 5th graders, each student felted a symbolic egg that incorporated a piece of silk fabric on which I had free-motion embroidered their full name to represent their person. Students brought foods such as grains, beans and seeds from home, which they used to fill their hollow egg forms as a representation of the nurturing they receive from their immediate family. Students implemented basic stitching to close the form and secure the contents of their egg. The students then assisted me in covering a 2-D resist with wool fiber, which was rolled flat and then fulled into a 3-D nest representing the larger school community that further supported the development of each child. Students wove locally harvested branches as well as random materials they gathered from their locality into the holes created in the nest to represent the even larger community and environment outside their school. Each grade had their own nest to place all their eggs, which were then temporarily installed in trees on the school property and more permanently exhibited in the school.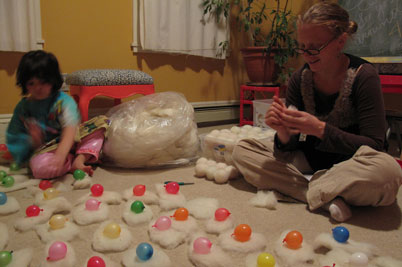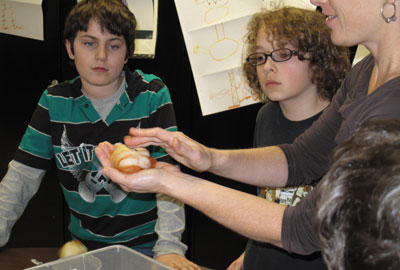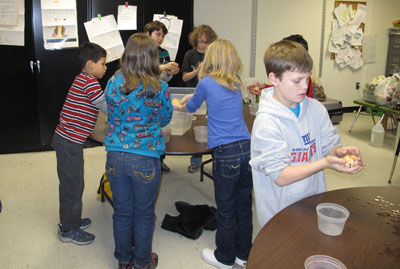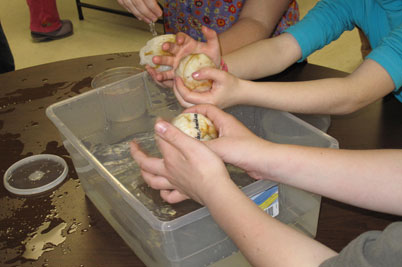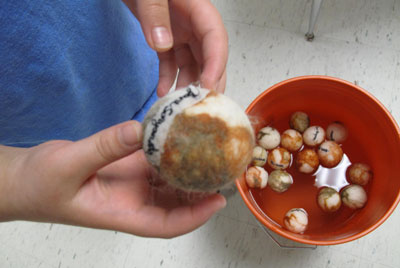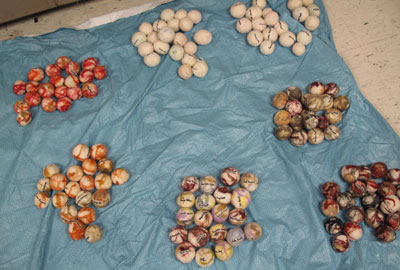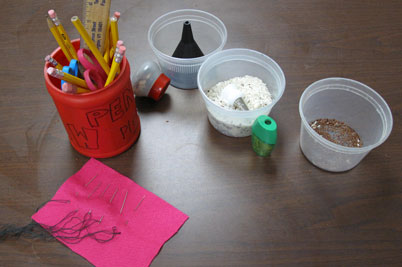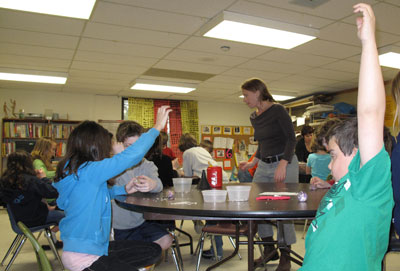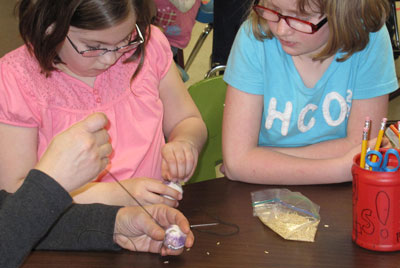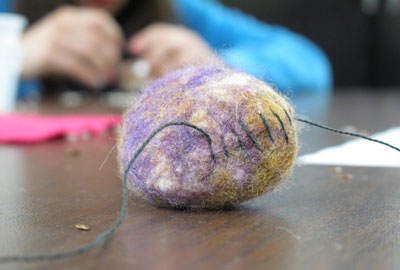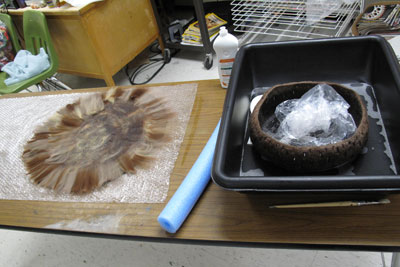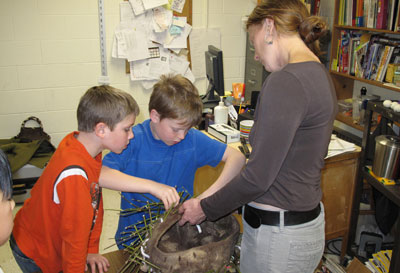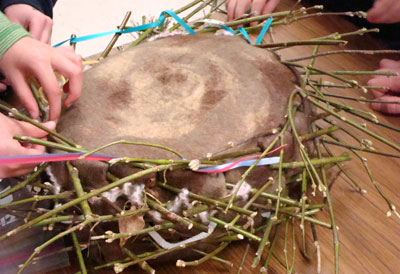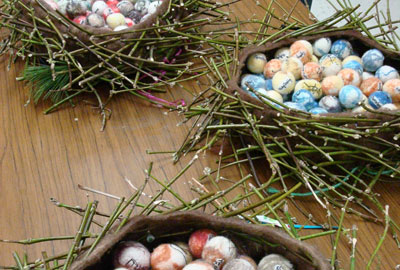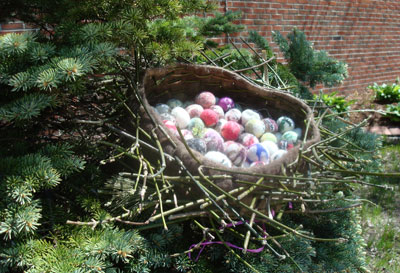 Teaching Philosophy
My goals as a teaching artist are to provide an environment where students can learn the visual language of art and begin using it to study expressions of people throughout our human story, communicate their personal reactions to life and interpret the current world flooded with visual images; from the juxtaposition of physical matter to persuasive messages of mass media.
Students ought to be familiar with techniques and expressions in fine art media, but also have an opportunity to explore the transformation of traditional craft based materials as well as the use of non-traditional materials. The induction of fiber arts into a visual art or general curriculum provides avenues for implementing intercultural and cross-disciplinary learning. Raw animal and cellulose fiber has been transformed to meet the basic needs of shelter and clothing, as well as, employed by cultures and individuals as a medium to communicate aesthetic pleasure, and conceptual expression. By way of offering teaching residencies focused in the medium of felt, students are able to integrate learning in science, technological development, engineering, art, mathematics and social studies.
Artistic endeavors present opportunities for not only developing perseverance and manual dexterity but also the building of social skills. Group discussions/critiques encourage development of opinions as well as an ability to question ones perspective, acceptance and sensitivity toward those with differing views and learning how to give as well as receive constructive criticism. It is through this interactive dynamic that self-efficacy is built and higher ordered thinking is nurtured. Students learn to observe, analyze, interpret and evaluate artistic expressions, information, physical surroundings and their own personal experience and existence; the basis for developing meaningful art work as well as a meaningful life.
It is essential for an educator to model these skills and thought processes and to be self-reflective of their teaching methodology while evaluating student learning and effort. I highly value the opportunities for expression and interpretation offered by the visual arts and this has facilitated my interest in and respect for the visions of young people.