I was contacted by Annalisa of the Dyeing House Gallery in Prato, Italy back in January 2015 about a special project that they had initiated and asked if I would like to participate. The basic concept was that I would have choice of the company's products to create with and would then donate some of that work to DHG for an online auction to benefit the Pediatric Oncology Ward of the Anna Meyer Hospital in Florence, Italy. A nice idea, no? My style of working wool would reach new audiences through the DHG website, other felters would see that I am working with DHG products through my blogging and I would receive a variety of DHG products of my choosing to continue to work with. What really locked me in to participate in this project, however, was the idea of my work being auctioned off to help fund this well-known Children's Hospital that was built in 1884 and that offers its services free of charge. That is what the name STRONGFELT is about…not just quality of material, but integrity in actions and communications.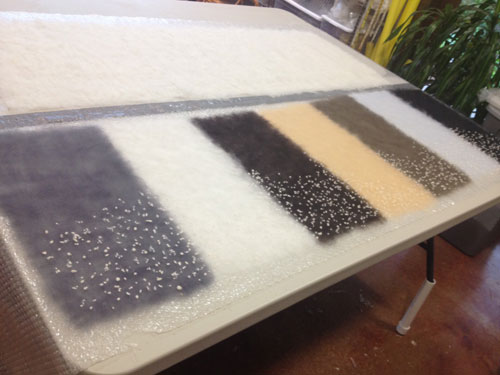 I requested a selection of colors of DHG's extra fine Merino top (L to R: storm, white, coffee, dune, beaver, tulle, dark) and wool nepps. Here, the fibers are laid out in my STRONGFELT STUDIO to make wet felted sheets of partial felt with a potential of some 90% shrinkage and sprinkled with wool nepps to offer some random surface texture that I can play off when free-motion stitching.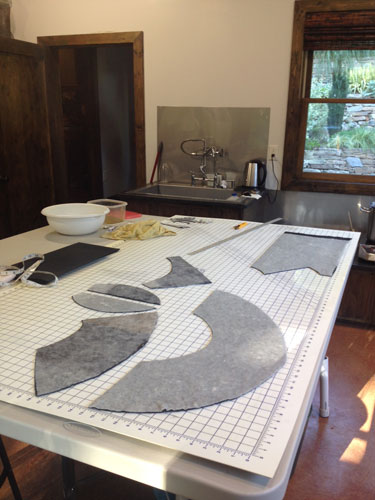 I always make my own partial felt as I can control the thickness of the layout and how much I felt/full of the potential shrinkage of that weight of wool per area before I cut up the sheets to use in my designing. I realized that DHG also sold needle felted sheets so I requested some yardage in black and white to incorporate in my design work. I was curious to see how my wet felted partial felts compared with the thicker needle felted sheets when incorporated in the same piece. I stacked all the sheets together and began cutting out some shapes for my jewelry pieces I was envisioning. Stay tuned for the projects development….