I am doing a little retrospective blogging of this project, as there just wasn't time to post during the time of making and SNAG's Exhibition in Motion fashion show of large scale sculptural works is this Saturday, May 21 from 8-9 at the Grand Ballroom of the Renaissance Hotel in downtown Asheville!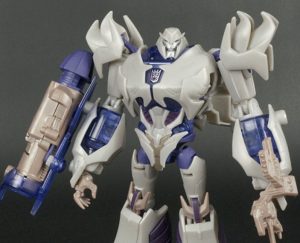 After our initial experimentation with the incorporation of my felt skin encasement techniques over her steel wire forms (see prior posts), Sarah West and I had a phone conversation to devise our collaborative piece. One of our sample structures fit the curvature of a shoulder and was reminiscent of the high shoulder pads popular in the 80's that alluded to the defensive strength of a football uniform's shoulder padding or the angular shaped shoulders of the Transformers, a robotic toy line, also from the 80's. Remember these!! We decided to pursue a large neckpiece incorporating oversized shoulder pieces and Sarah began making the structure.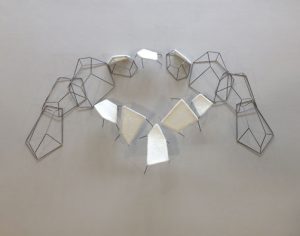 We had decided that the shoulder pieces and some of the faceted gem shape components would be covered completely in a skin of felt.  While others only a singular plane would be free-motion embroidered felt (a technique characteristic of my work) or pieces of prong set vinyl record (a signature of Sarah West's work). The forms intended for a singular plane of felt couldn't be completed initially or I wouldn't be able to fit them under my sewing machine's arm to embroider them. Sarah had shown me some of her vinyl collection during a previous visit and we decided on this black and white patterned heavy metal record, which inspired my stitching.