A rather joyful group started off the 2015 workshop schedule at the STRONGFELT STUDIO last weekend with a course on all things related to the coercing of wool fibers through pre-structured fabrics.  We isolated variables in the fabric fusion process through a variety of studies to learn the range of possibilities that each variable offered. For instance, how much hair the hand of the maker allows to penetrate the fabric when the area and type of fabric and the amount and type of wool are the same or the control….the scientific method in action!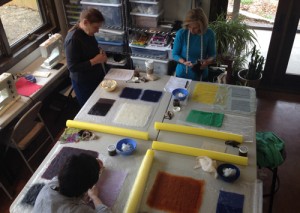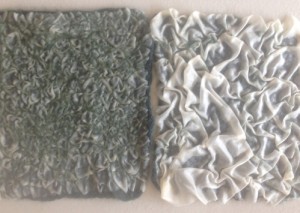 Then there is the density of fabric as a variable shown here by Elaine Evans…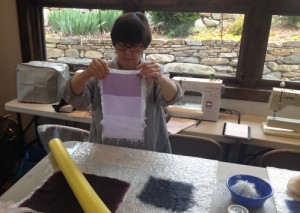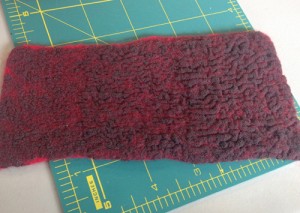 Also the integration of partially felted sheets of wool! Depending on the integrity, partial felt can create a resist to hair grasping the fabric allowing the fabric color and pattern to be more bold and can also be used to refine the edges of the fabric as demonstrated by Becky Hope Mallory below. Structural design in wet felting is all about 'hair availability.'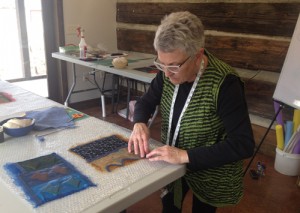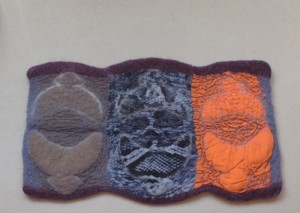 Oh and can't forget to mention the wonderful linear effect of the hairs of the partial felt edge navigating to the surface shown in Elizabeth Childers sample….nor the simplicity of solely edging the fabrics to create a stain glass effect.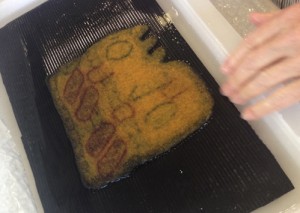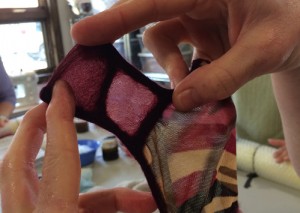 So, so many aspects of felting to grasp and there is nothing like a hands-on workshop to get a feel!  Check out the STRONGFELT STUDIO, workshops topics and the remaining 2015 schedule…