I have recently been experimenting with stainless steel wire for structuring bone-like bead forms and bracelets. The stainless steel is choice as it doesn't rust and won't shift the color of the natural dye baths I intended to submerge the pieces into after felting. There is often, however, not time to truly explore the breadth of a concept when distracted by the focus of production and making money. This, I believe is what a residency is designed for and my intention was to explore and push the idea of structuring paper-thin, yet tightly felted wool over armature during my two-week residency.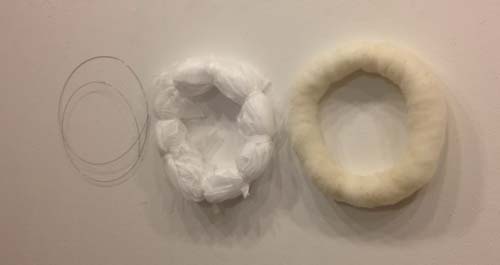 My first approach was to enlarge the bracelet armature I was previously making to develop a collar style neck piece. Wool must have space to shrink in order to become entangled into felt. Therefore, I  calculate how much larger the surface area needs to be around the wire and build up to that dimension with plastic as well as how much wool needs to be applied over the plastic form so that I achieve a thin, high-shrinkage felt that is taut against the wire when well-fulled. NOTE: I introduce this concept in my teaching in the course, Resist-based Pendants, where participants encase an object of their choice.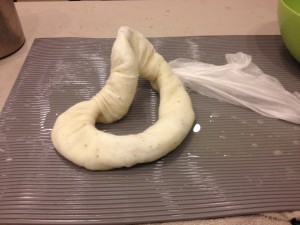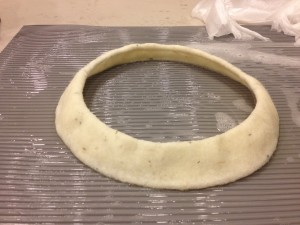 As the thin layering of wool begins to felt, it first feels like tissue paper, then a delicate pastry and at this stage I start removing the plastic so to give the felt encasement more airspace to shrink into.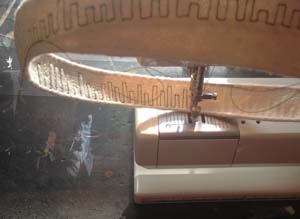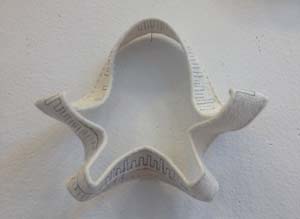 Once all the plastic is removed and the felt is taut against the wire, I let it dry, free-motion embroidered between the two wire circles and then manipulate the wire structured, endless ribbon.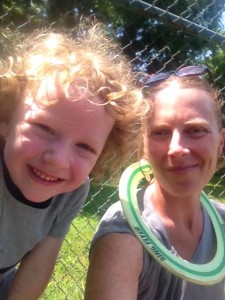 My friend Taran inspired my thinking of a wire structured collar form when we were at the park this past summer. Thanks little man!