I've been working in the studio on additional adjustable clasping necklaces in my Mechanoreception Series that I started this past July 2022. I began conceiving of this work, however, when I came across masses of worm tubes on Florida's gulf coast beaches in December of 2021… my first excursion during the isolating COVID restrictions. Not familiar with the word mechanoreception? It's an animals reaction to external stimuli such as touch, pressure, vibrations and sound or rather its ability to react to such. I'm a little preoccupied by the anthropomorphic behaviors of the Annelid class of tube building worms as related to their dwelling in dense masses, yet each in an isolated silo as well as their quick recoil to external stimuli. The meshwork of their tubes is also a fantastic representation of the intertwinement of wool filaments in felt that is otherwise hardly visible with the human eye

I had the new pieces photographed and readied to share on my website and social media as Hurricane Ian rolled the Gulf of Mexico onto Florida's western shores. With members of my family living in the Naples area (thankfully safe and without major property damage) and many childhood memories of Ft. Meyers, Sanibel Island and Captiva,  I would like to make a symbolic and monetary extension by offering 40% of the sale of this neckpiece, Mechnoreception 3,  to be split between CERF + (Craft Emergency Relief Fund) and WTF (World Central Kitchen).  If my work appeals to you aesthetically, conceptually and/or my action simply tugs on your heart strings, know that your acquisition of my work will provide an opportunity for us both to donate. Please link to the piece in my NECKLACE PORTFOLIO for more details. Email me through the contact link to purchase. No charge for shipping.
The choice of an adjustable clasp that opens up the neckpiece to a larger circumference and also closes it down is informed by the operculum of the Serpulidae family of Polychaeta tube worms, a little door that blocks the entrance to their silo when they retract. 
I was paying particular attention to the extended state of the cords before introducing my external force to act out their knotting and recoiling. It reminded me of a country road with quite some space between where smaller roads intersect, like out by my maternal grandparents farm in Avoca, Michigan or the roads that rambled off from highway 522 north of Taos, New Mexico where I lived in the late 90's. I associate the dominance of space between lines in real time or when viewing a map with sparse populations and calm. Some people feel vulnerable in open space, but it is there that I feel possibility, the possibility of movement.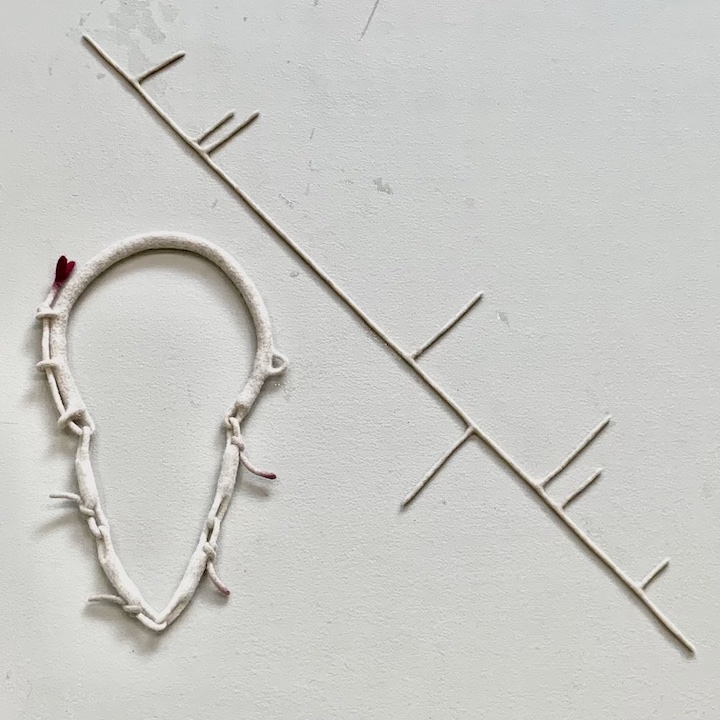 It is no wonder that I have a fondness for laying my filaments of wool ridiculously thin to felt a 2D plane, like the country roads on a map. It is the space between those filaments that allows for the extraordinary movement and intertwinement that results in high shrinkage, strong, yet still flexible felt. I've always preferred living in the small towns between those spacious lines on a map and travelling inward to the denser population grids upon occasion. I've always felt a bit sensory sensitive, more of a country mouse if you will.