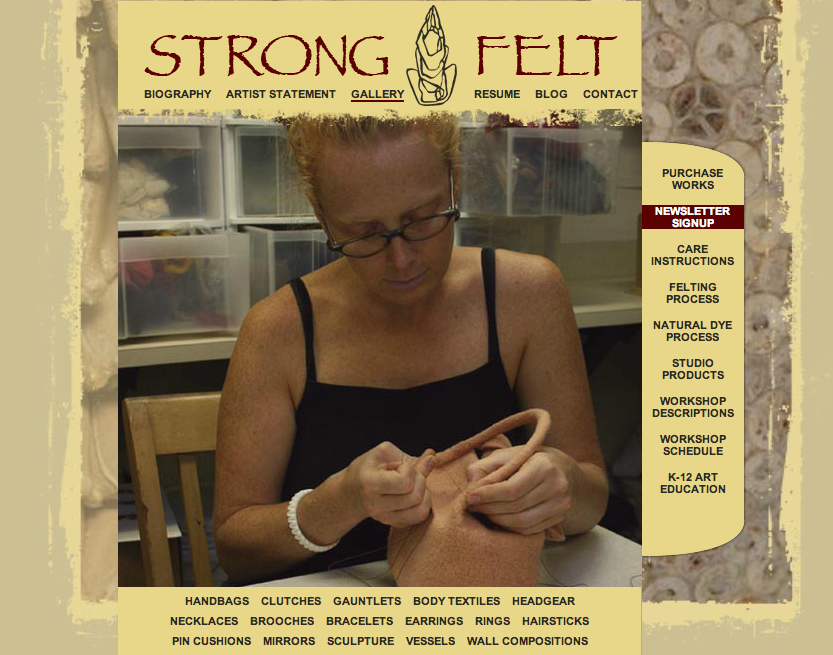 It's LIVE!!! With this first blog from my newly launched website at www.strongfelt.com I not only invite you to spend some time wandering through the new site but I would like to pay homage to my old site pictured.
I developed the concept for that site while I was a resident artist at the Appalachian Center for Craft in Smithville, TN with the intention of sharing the images of my work and my growing passion for the felt medium. I was far from tech savvy and it was a leap of faith to put myself out in the world in such a way. The site developed over the years to promote a plethora of workshops I had designed to address various techniques I implemented in my work, tools I designed and Moroccan olive oil soap that I imported. I have deep gratitude for the connections made through that site over the past decade: sales, opportunities for publication and exhibition and sharing my approaches in workshops and teaching residencies. Thank you! Then the inevitable happened…
CHANGE!! The site's operating system had become dated and it was a challenge to find those knowledgeable or willing to modify the site. It began to not function properly on some browsers as well as the images in my gallery not being viewable on mobile devices. Soooooooooo, I finally stepped it up and designed a site with new aesthetics, a gallery with larger images and ease of navigation, with images to illustrate my workshop descriptions and a page dedicated to the STRONGFELT STUDIO where I now create my work and teach workshops from in Asheville, NC. AND in the future I will be able to set up a shopping cart on the site. Thank you to The Pixel Princess for her assistance in this process! Here's to another decade of making and sharing….