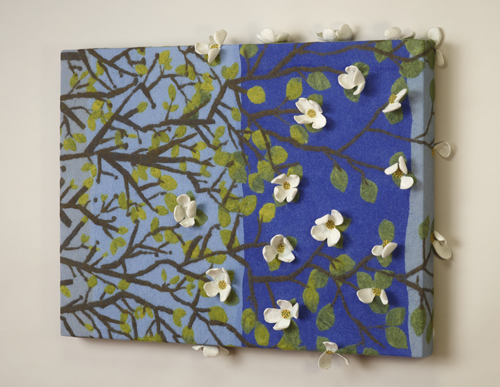 The piece created during my Vance Elementary School Residency with 5th graders last week, April 7-10, 2015, has been completed today! I stretched it over a 28″ x 38″ x 3″ frame, which resulted in a lovely effect of several of the Dogwood blooms wrapping around the sides and sitting on top of the frame.
A special thanks to the Asheville City Schools Foundation for funding my TAPAS Residency at Vance, to Brian Ballenger for providing time in his science class for such a project, to Mark Schieferstein for cranking out a frame for me and to Steve Mann who made time today to photograph the piece. I look forward to sharing more about this residency and posting a collection of images on my website's residency page in the next week…
Now I am on my way to the school's open house so to be present to hear the kids talk to parents about their experience!