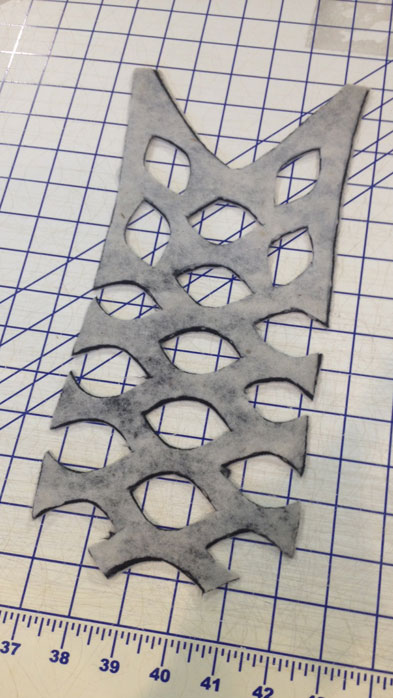 I have been incorporating fence patterns in my work for sometime now as well as other protective imagery such as stone or brick walls and wood grain. I began placing pieces of beach glass encased in silk in the fence's negative spaces as a symbol of light, clarity, and transparency. You can see this way that I work felt in my body textiles as well as my recent neckpieces at www.strongfelt.com.
Considering the work for Dyeing House Gallery's Charity Auction was benefitting the Anna Meyer Children Hospital, fence patterning seemed an appropriate place to begin my designing… thinking about eradicating or blocking their dis-ease. Also, I had been gifted a collection of beach glass from Murano, Italy by a former student, Terry Heintz. It included a grouping of blue glass that I couldn't imagine a better purpose for…to symbolize hope and clear blue skies. My intention was to create jewelry for the project and a piece that would present on the chest protecting the heart. I began cutting the negative spaces out of the stack of both partial felt I had made from DHG's Merino top and a layer of both DHG's white and black needle felt. Interesting that the design I cut referenced the spinal column. More on that in the next posting….
For context of this project please read my first posting about the DHG Charity Project in STRONGFELT's Blog, INTRIGUE.