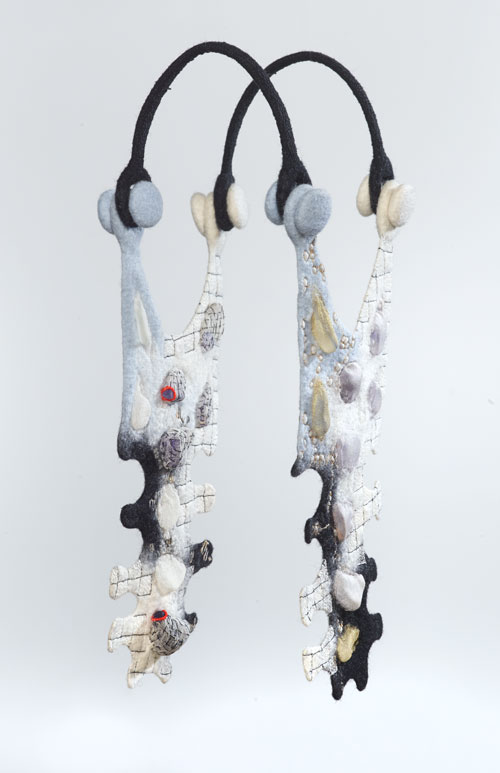 My donation piece for the DHG Charity Project has arrived in Prato, Italy! Dyeing House Gallery has posted an interview with me on their site as well as the piece in their on-line gallery. It is now available for purchase through DHG with the sale benefitting the Meyer's Childrens Hospital.
The last of stitching was on the machine to compress the rounded black cords into tight bands that would cross over the shoulders, connecting the chest and back pieces. The stitching made the cords much stiffer, appropriate since the muscles crossing my shoulders are so very tight, restricting my neck movement. Additionally, having these black cords stiff allowed me to hang the piece by fishing line in the middle of the cord to create an arch and not have the cords fold over and collapse. This created a negative space that one can imagine being occupied by human shoulders with the chest and back pieces covering just those parts of the torso. As you can see on the back piece to the left, the surfaces with the 3.5 mm silk chiffon that were distressed through the fulling process and subsequently stitched and repaired are facing inward against the wearer. The outward surfaces that would be seen by those viewing the wearer are less visually complicated and revealing.
For context of this project please read my first posting and those that followed about the DHG Charity Project in STRONGFELT's Blog, INTRIGUE.