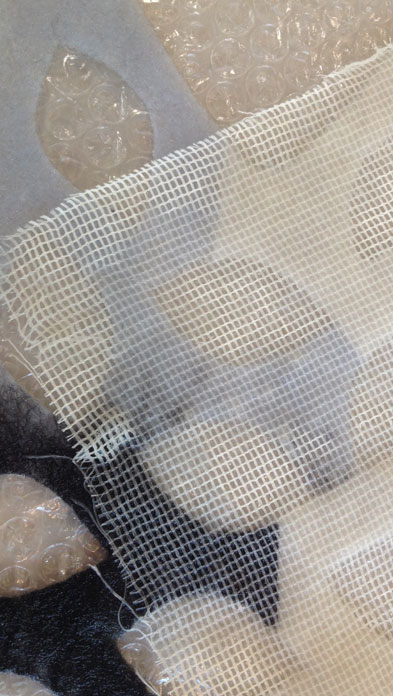 The two main reasons I encase beach glass in fabric pockets, aside from the conceptual nature of the inclusion, is to give weight to the textile and to see the color and shape of the glass. With the beach glass spaced evenly in a pattern across the surface of the otherwise light and flexible fabric, the textile takes on a quality reminiscent of the movement of a reptile's skin or the movement of a spine.  In order to also see the beach glass I tend to use a lower momme weight of silk with more transparency.
For this project, I requested Dyeing House Gallery's 3.5 mm and 6mm silk chiffon as well as their wool gauze pictured.  I was curious to experiment with the wool gauze as it has an initial open weave structure which would close up depending on how much the surrounding felt was fulled. Gauze fabric has medical associations as well, making it an appropriate fabric to employ in this  piece for the DHG Charity Auction to benefit the Anna Meyer's Children Hospital. I developed a deep connection with gauze material after a terrible burn to my right arm had me in a routine of swaddling my arm in medicated gauze for weeks on end.
For context of this project please read my first posting and those that followed about the DHG Charity Project in STRONGFELT's Blog, INTRIGUE.