It had been just a few weeks since the first STRONGFELT STUDIO class in early April, but this crew got to see all the terraced beds blooming with color and texture. From the left: Karin Fish, myself, Susan Kaplow and Nina Denninger.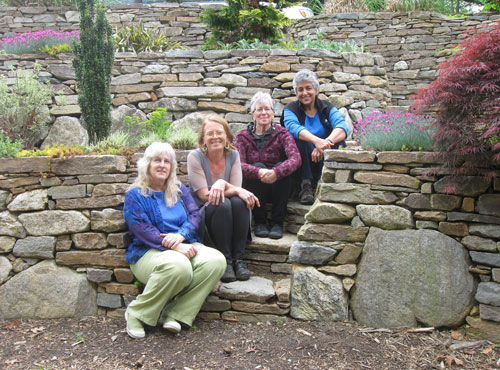 Nina's hands are in action below, exploring the raising of a form from a 2-D plane by fulling the differential shrinkage into the third dimension. The ladies then employed the same concept of placing partial felt density into the layout, but this time while wrapping a resist. The increased area from both sides of the resist provides more height for the form's walls as well as an ability to close the mouth of the form. Karin and Susan are refining their fiber layout around the resist, so to not bulk up the area at the edge, which would impede the raising of the form once the resist is removed.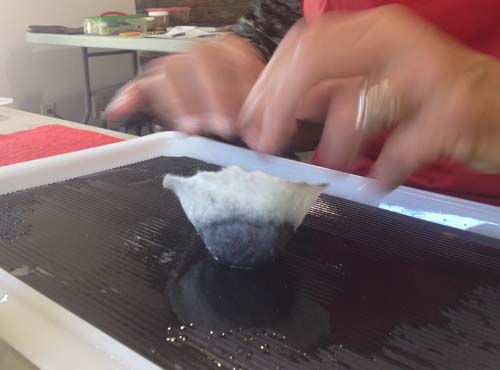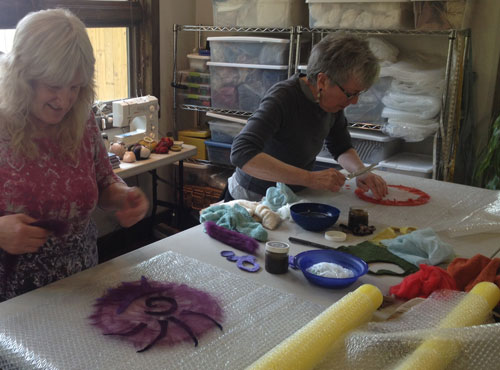 My demonstration piece showing the art of less, is more! Negative space, or areas of thinner layout, result in more dramatic forming as these high shrinkage areas can undercut the low shrinkage partial felt leading to concave and highly protuberating form.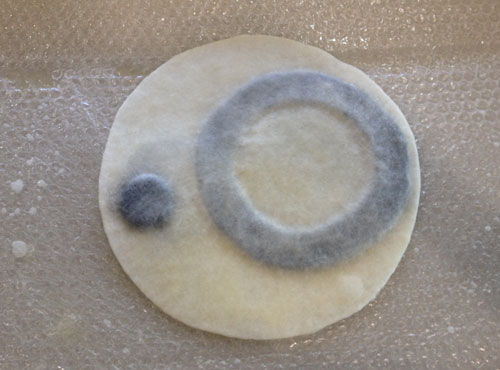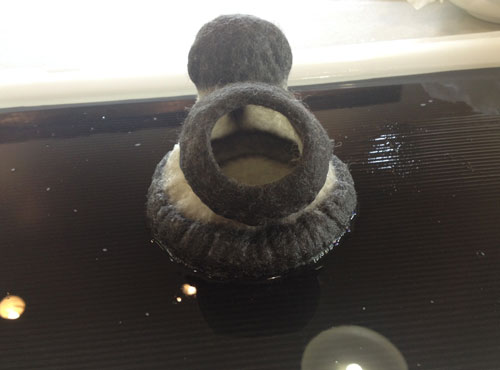 Nina's form below and to the left, in the process of being fulled by using the STRONGFELT tool to not only agitate the concave areas but also to block and stretch the protuberations. Of course, this level of muscling the felt is in response to the strength of the fulled felt and shouldn't be applied when the felt has less integrity or it will tear up or pill the surface. It's all about intent…you have to prepare the form you are wanting by how you lay out the weight of fiber and on what shape resist and then think about how you agitate the wool from the beginning of the process to the end! Lastly, a little refining by way of steaming, shaving, stitching and applying shellac. Great class ladies!! Next course on Sculpting Hollow Form, Sept 17-20, in the STRONGFELT STUDIO, Asheville, NC!